Anyone who has a new laptop will often consider buying laptop backpacks as an accessory and protection. Additionally, a laptop backpack is a great help in moving from place to place with ease.
In today's technological age of electronic wizardry, computer operations is not anymore an optional choice to start or end a task, adding to it the so many end-points devices proliferating around. But with all these computing gadgets, laptop ranks the most sought after in the computing world. Owning a laptop, for people who are always on the go is not anymore an optional need but a ready necessity for any computing works to be done.
Basic Factors In Purchasing Laptop Backpacks
There are so many great laptop backpacks in the world, and the list is growing. Choosing a laptop that's one-size-fits-all for every person's style, body type, and budget isn't easy. When buying a laptop backpack, extra care is essential. Guaranteeing that the preferred backpack suits your need and it is of the best quality, will save you from lots of problem and disappointments. Below are some of the factors to consider in purchasing a laptop backpack, to wit;
Strength- look for the material that is ultra-strong for it will last longer.
Ease of use – it must be very comfortable to carry
Ideally, fit – ensure that it is appropriately fit for your laptop
Appeal – outside from the intended purpose, choose a laptop backpack that complements your style.
Space availability – look for a laptop backpack with enough pockets and extra compartments for all the items needed to carry with.
With all the factors listed above, take some time to go through the following reviews. After reading it you will be in a better position to purchase the best laptop backpack.
Best Laptop Backpacks Reviews
 1. SwissGear ScanSmart Black TSA Friendly Laptop Backpack SA1908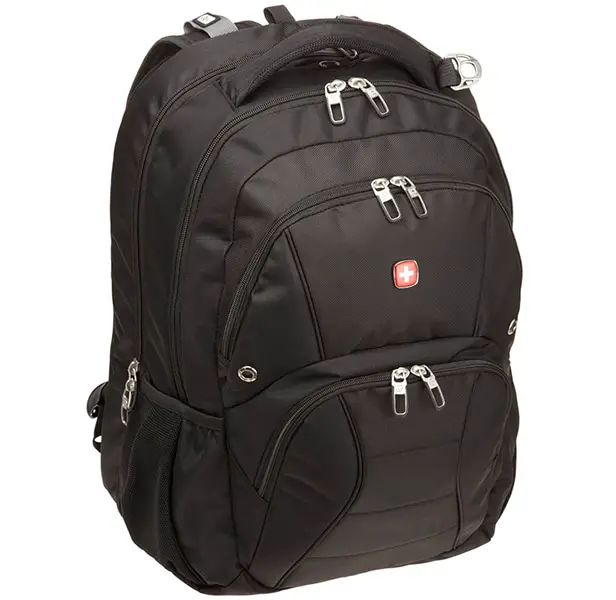 This laptop backpack is another great product by the Swiss Gear Company, versatility built for user's convenience and functionality. The SwissGear ScanSmart Black TSA Friendly Laptop Backpack SA1908 is designed to accommodate laptops and tablets of up to 17" in size. It is optimized for the user's comfort and support with extra padding where it is needed most.
The SwissGear ScanSmart is loaded with features like a specially built pouch to secure your other gadgets, the main pocket that provides protected packing for gaming peripherals, multiple binders, and other accessories, and its core purpose of securely stowing away your laptop and hit the road without fumbling around with dividers and zippers. Also found inside is an organizer pocket that allows users to pack and carry pencils, pens, CD's, cell phones, and other essentials things.
With its durable ballistic weave fabric, this SwissGear laptop backpack will last longer than most other laptop backpacks in the market today.
Key Features:
Viewing Compartment: A unique open window compartment absolutely designed for quick recognition
Interior adjustable padded laptop straps to fit different laptops size.
Back Airflow System: Multiple panel airflow system designed to provide extra padding for comfort and maximum back support.
2. Swiss Gear Swissgear 17″ inch Laptop Notebook Mac Book Premium (Laptop not included)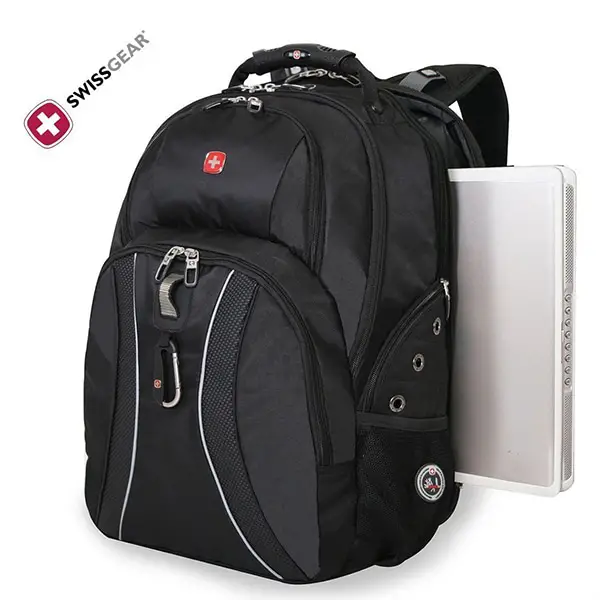 This laptop backpack has a unique, quick-recognition window designed to perfectly fit most 17″ laptops coupled with an easy access laptop compartment that opens quickly at security checkpoints.
This attractive but rugged laptop backpack which is made of durable ballistic weave fabric, features special pouch for MP3 player with an external headphone port, an elasticized external mesh pocket that can expand to accommodate various size of water bottles, and an organizer interior pocket that provides removable key fob and divider pouch for pencils, pens, cell phone and CDs
Key Features:
Audio pocket – internal pocket for MP3 player with an external headphone port
Eyeglass holder – elasticized tab on shoulder strap conveniently keeps sunglasses secure and accessible
Shoulder strap system – ergonomically designed contoured straps with added padding for comfort and control in the user's movement
3. eBags TLS Professional Slim Laptop Backpack All-Black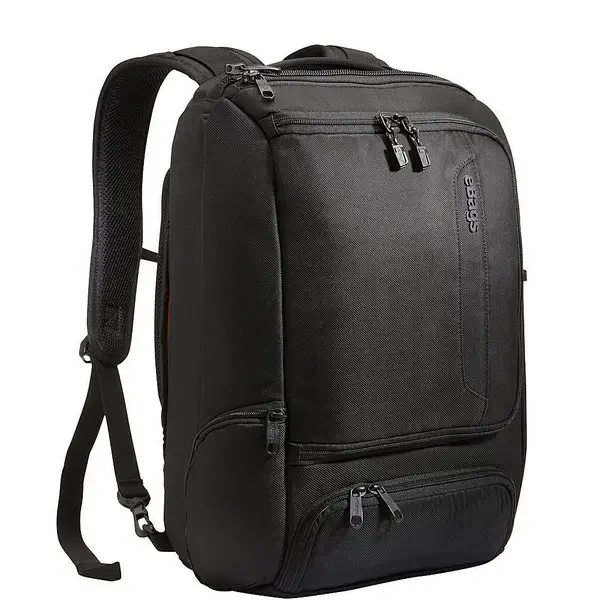 This TLS Professional Slim Laptop Backpack marries corporate casual with professionalism. Very comfortable to use, attractive, and a lifetime warranty, it is an excellent choice for a laptop carrying case. Made of rugged but long-lasting twisted filament polyester exterior, plus DuPont Teflon fabric protection, this eBag Professional Slim Laptop Backpack offers an assortment of different compartments configurations, featuring a crush-proof AC adapter pocket and a zippered pouch for a water bottle. This laptop backpack can fit up to 15 inches laptops with removable padding that can be removed to allow extra space for a 17 inches laptop if necessary.
Key Features:
Material – 840D & 900D twisted poly exterior
Warranty – Limited lifetime warranty against defects in materials and workmanship
Convertible –convertible from backpack to briefcase with its vertical and horizontal handle
Well-done padded vented Airmesh back panel and contoured backpack straps coupled with detachable adjustable shock-load sternum strap
4. Incase Icon Backpack with Padded, Dedicated Sleeves
The Icon is one-size-fits-all, made of 100% nylon material laptop backpack ergonomically organized with a sternum strap, first-rate back padding, and well-thought-of adjustment points on the shoulder straps. It is very comfortable to carry even with heavy load. It features an array of pockets to load extra accessories and other essentials, dedicated compartments for your MacBook, iPad, and iPhone plus a water bottle compartment on the side.
The only annoying thing (or is it annoying at all) for this laptop backpack is that the bag's frame will hold as steady as can be no matter how much gear a user is carrying, something sometimes that could become a turn-off to some users who want a collapsed bag when not carrying everything.
Key Features:
Made of 100% Nylon
Zipper closure
One interior zip pocket. Five exterior pockets
5. KAKA Classic Laptop Backpack for 17 Inch Laptops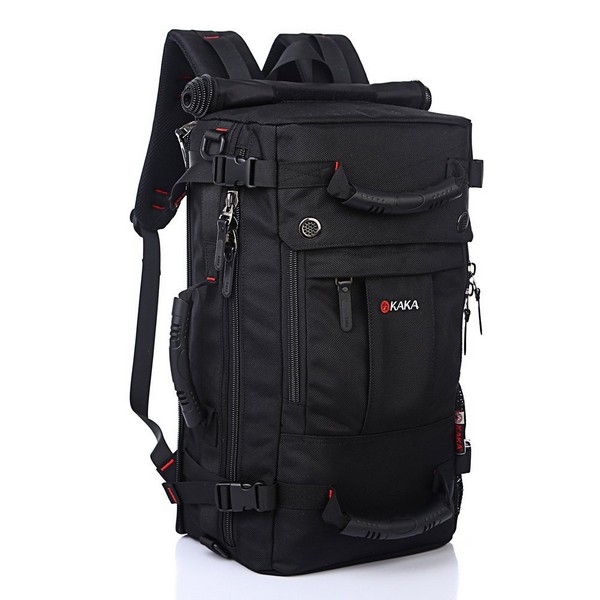 This uniquely designed KAKA Classic Laptop Backpack for 17 Inch Laptops is made of durable terylene oxford fabric with a waterproof lining, will ultimately become the user's second identity. It is convertible into a tote bag with its top equipped with a handle.
The key compartment inside can hold laptops of up to 17 inches in size. This laptop backpack features a total of 10 pockets scientifically and reasonably designed to ensure that your accessories and other essentials are systematically secured. This backpack is best for traveling, camping, hiking, working, school, other and everyday use.
Key Features:
This bag can be used as duffel/suitcase/briefcase with a handle on the side.
Two durable straps are in a hidden compartment to make this bag a backpack, a rucksack, and a satchel.
A detachable shoulder strap can easily turn the backpack into a messenger bag, a crossbody bag, and a shoulder bag.
A total of 10 pockets. 1 Main zipped pocket, 2 small pockets in the main pocket, 2 front zipped pockets, 1 side mesh pocket 1 laptop sleeve and 3 pockets in the large front zip pocket.
Warranty: All of the bags have 1-YEAR WARRANTY.
6. Case Logic DLBP-116 16-Inch Laptop Backpack (Black)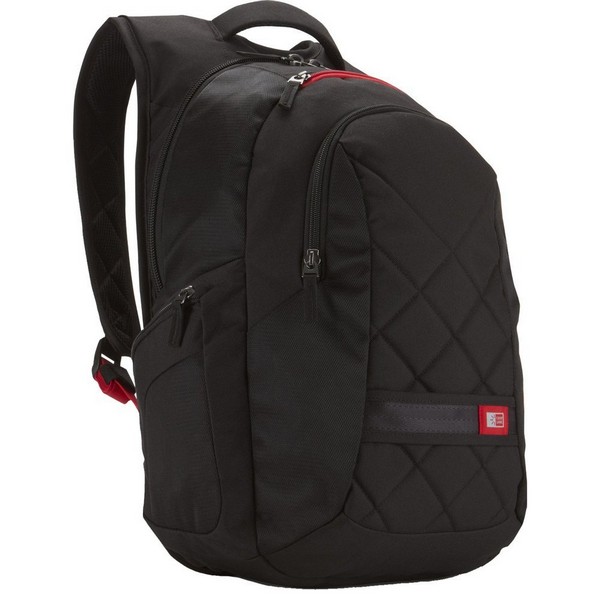 This lightweight but stylish and functional Case Logic Laptop Backpack is not only capable of keeping your beloved laptop safe, but it is also more than ideal for business, leisure, travel, or school. The quilted padding on the front and shoulder straps offer much added cushioning and comfort for the user.
It features a dedicated separate laptop compartment that can accommodate most laptops with a 16 inches screen plus a felt scratch-resistant pocket to protect your sunglasses. If ever you are looking for a pocket-friendly laptop backpack, then look no further because this great laptop backpack will ably provide you with a smart organization for all your accessories while allowing for easy access.
Additionally, this backpack also featured a speed pocket that allows for quick access to the phone, camera, or other essential. This backpack is made of 100% PVC-free materials.
Key Features:
Adjustable well-fitted shoulder straps that include easy strap management system keeping excess strap rolled up and out of the way
Zippered front pocket organizes your cell phone, MP3 player, cords and other accessories
A felt-like, sturdy scratch-resistant pocket in the top is ideal for touch screen mobile phone or touch screen mobile phone
7. Outjoy 17.3 inch Laptop Backpack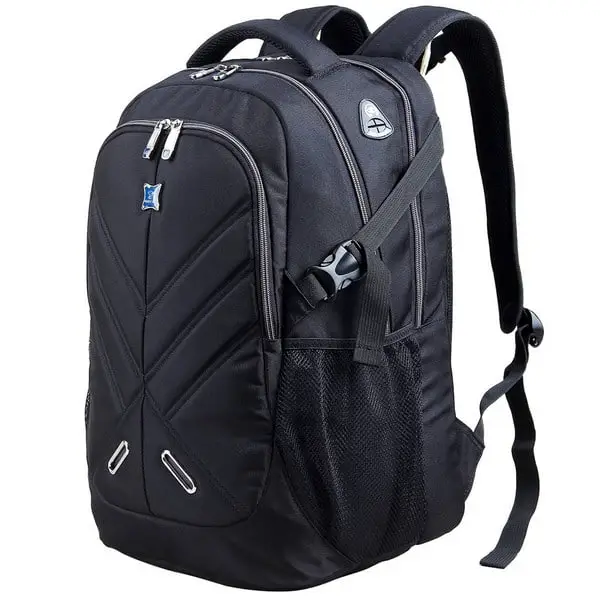 The Outjoy 17.3 inch Laptop Backpack is made of high-quality Oxford cloth, thicken in its processing to make the backpack breathable, shockproof, and waterproof. Your laptop will always be safe from shock and water infiltration in this high-grade laptop backpack. It features ten functional slots for all your accessories and other essentials items wherever you go.
This backpack is so fashionably designed to suit everybody's style with its backside pocket featuring an anti-theft design ensuring that all essential items are always safe even in the middle of the crowd. It has a dedicated compartment is large enough to fits most laptops of up to 17.3 inches.
Key Features:
Considerate construction – large stuff pocket for laptop or clothes, wallet/notebook pocket, and pen pocket.
Warranty – Koolerpek provides 100% money-back service.
Roller carry design helps you carry the backpack continence during traveling.
The high-grade material makes it anti-scratch which add safety for anti-theft.
8. Targus Legend IQ Backpack Fits up to 16-Inch Laptop, Black (TSB705US)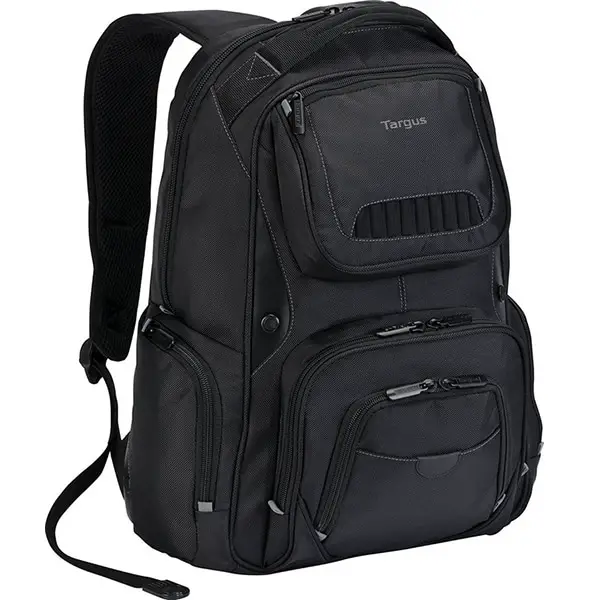 This Targus IQ Backpack is the ultimate in protection for your treasured laptop. It is perfect for on-the-go techie. This is a heavy duty laptop backpack that comes with built-in storage compartments for your accessories and other essentials items. Looking for a laptop backpack with multi-purpose pockets and ergonomic durability, the Targus IQ Backpack is an irresistible choice.
This backpack has all the compartment for every need and for every accessory. This backpack features a large padded pocket that is designed to fit most laptops up to 16 inches, another pocket for your tablet that is lined with soft-touch material, two side pockets for easy access, customized media pocket fitted with a built-in cord and headphone jack to keep the tunes going while walking, and internal and external extra pouches which zip for added security.
Furthermore, comfort was also well-taken care of by the two padded adjustable shoulder straps and a padded back panel ensuring that you will feel as comfortable with your journey throughout the day.
Key Features:
Material – Durable 1680D polyester material
Easy connectivity – equipped to function with most MP3 players by connecting through a cord in the shoulder strap
Functionality – adjustable strap to secure laptop always stays securely in place and holds practically anything you would need in several multi-function pockets and compartments. Standard compartment space for those who want the flexibility to carry more.
Limited lifetime warranty – Targus offers one of the most comprehensive warranties in the industry so you and your device are covered.
9. Ghostek NRGbag Series Computer Laptop Messenger Backpack (Gray)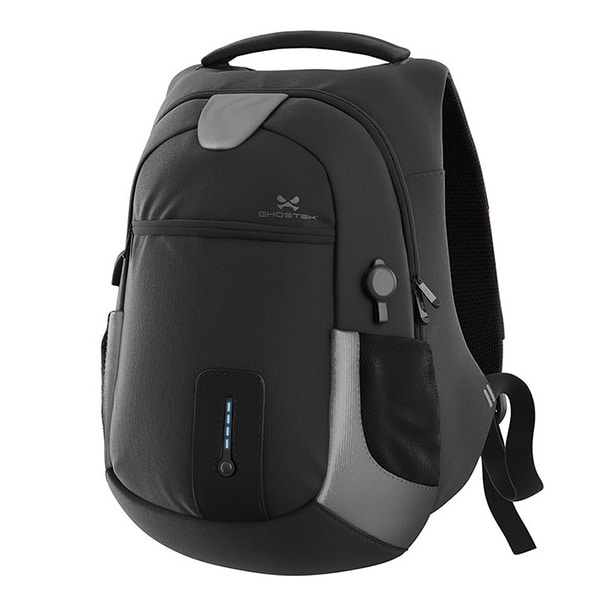 The Ghostek NRGbag Series Computer Laptop Backpack has a galore of pockets and compartments. No shortage of storage space! This water lightweight, resistant, and multi-purpose backpack features a battery power bank and comes with multiple device charge function: a 7000mAh lithium battery built-in charging system, 3-Female USB Port Cables, and a battery charger.
The laptop compartment is a well-placed compartment installed at the back which is well padded to protect a laptop while also making it comfortable carrying the backpack. At the front of the backpack is a battery indicator light letting you know when to recharge the battery. This unique and greatly durable backpack can also charge your computer and other tech devices making it incomparable to other backpacks on the market.
Key Features:
One-touch power button/battery level indicator – Conveniently located LED lights on the outside of the backpack, to display battery power level right on the power button. The indicator lights will quit flashing in 10 seconds if the device is not plugged into the battery source.
Rechargeable 7000mah removable battery – Most mobile devices can be recharged with this built-in battery system. Ideally designed for eReaders, Smartphones, and Tablets. It is adaptable for either Micro-USB or Apple products with a USB 2.0 Port.
Battery good for several charges – The battery is a lithium polymer and lithium ion with a DC 12. OV+- that charges at a speed of 800mAh. Its output is DC5.0V+-2 when empty. The USB output is 2000mAh.
10. Samsonite Luggage Vizair Laptop Backpack 1680D Polyester – Black / Electric Blue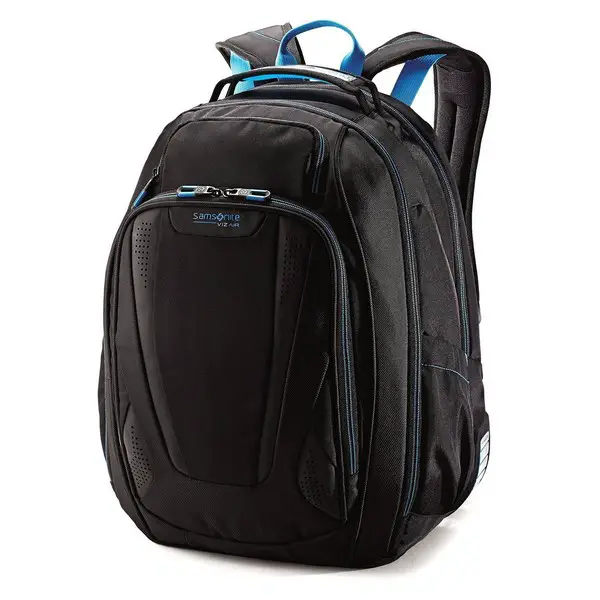 The Samsonite Luggage VizAir Laptop backpack is an innovative state-of-the-art backpack that is designed specifically for those people who are constantly on the go and meet all FAA regulations as far as carry-on luggage sizing is concerned. It can accommodate laptops of up to 15.6 inches.
The VizAir Laptop Backpacks from Samsonite Luggage takes protection to a whole new level using 100% polyester materials that greatly helps it to stay lightweight and "breathable", and very compact and manageable even when fully loaded. This Samsonite backpack is making a lot of buzz in the luggage industry, mainly due to the fact that the VizAir is making use of a new technology.
This VizAir technology features three air bumpers that are perfectly placed at the bottom and corner areas of the backpack and are designed solely to absorb shock in all forms. These three air bumpers ensure that all your items in the backpack most especially your devices are given the maximum protection it needed for a backpack. So, if you value comfort, protection, organization, and style, the Samsonite Luggage VizAir Laptop backpack is definitely the perfect one.
Key Features:
Fully padded compartment for laptop with VizAir protection.
Exceptionally dense air flow mesh foam back padding for convenience and comfort.
High-quality padded ergonomic, co-molded foam inserts shoulder straps for breathability are designed for comfort and ease of carrying.
Gusseted side compartment to hold water bottles.
Buying The Best Laptop Backpacks
These days, laptops which stored a vast amount of important files, become one of the most indispensable possessions we have, and they are not cheap!
Stylish, innovative, and tech-savvy users are most likely buy laptop backpacks that let you go hands-free on your morning commute or your weekend get-away aside from offering an ergonomic fit for everyday use, most comfortable, and well-padded, adjustable shoulder straps. A well-ventilated backpack can keep you cool in the urban jungle all day, and cushioned pockets and compartments keep your laptop, iPad and all your accessories and other essentials items secured.
As with most other products, it usually boils down to a compromise between price, quality, and convenience. At times, when choosing between brands of the same price range and quality, or even between product lines within the same brand, it just comes down to what fits your style. What is more preferable to you, one that exudes professionalism or one that's more casual or a more functional backpack for sports? Actually, consider what you'll be carrying on a daily basis.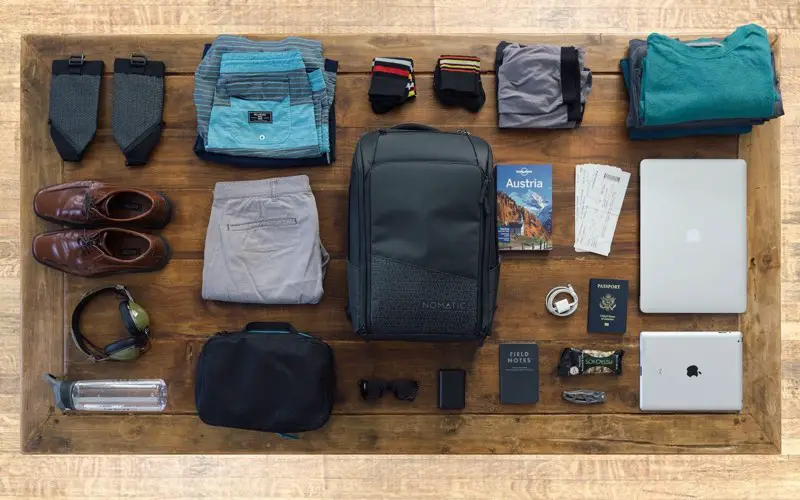 Is your laptop backpack looks good on you back? For some reasons, this is the least notable factor in buying a laptop backpack but look – if you are carrying something around on your back all along, that something will make a statement about you, whether you like it or not. You might be contented to go for style and form rather than function and let your backpack speak of whatever it wants.
Often, when buying laptop backpacks, we only think of the laptop fitting and forget all the other things we need to bring along as well. Additionally, when traveling and for what purpose, whether carrying it onto the plane or check it in will also help to determine the type and size of the laptop backpack needed. Furthermore, if flying constitutes a lot of your itinerary, look for a TSA friendly backpack that's checkpoint-friendly, making it extra easy to remove from the bag or even stay in the bag and zip through security.
Finally, be honest with yourself. Is the laptop backpack really is going to be for your laptop, or is everything else you own going to end up in there too, like for instance a vlogging camera? Although this article focuses on some specific models, in many cases, you should be able to apply what our write-ups have said about what makes one backpack compared to other models and brand.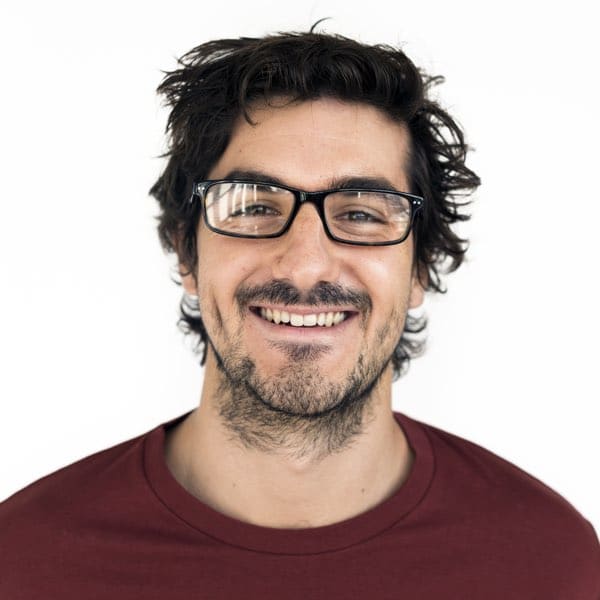 SAY CHEESE! My name is Mike and I love technology, software, and crypto. I grew up around my 'nerdy' engineering parents who've worked for high tech start-ups and aerospace companies. They've taught me everything I know, from destructing the latest phones to playing around with drones, writing lines of code and investing in cryptocurrencies. I take things apart, put them back together and add some (code). I breathe and live tech and can't wait to teach you more!