An ergonomic keyboard is a new technology in keyboard designs with carefully thought ergonomic functions that minimize user's wrists' muscle strain and other related health problems. Primarily, this technology supports user's wrists because of the unconventional shape or design of the keyboard that arranges keys in a more convenient and natural way to enable comfortable typing.
Usually, these keyboards are constructed in a V shape for two-handed users, allowing the two typing hands at a slight angle more natural to the angles of the hands. Although a debate is still hanging among users whether these ergonomically designed keyboards are actually doing anything, many users are finding them more comfortable than the traditional keyboards usually found on laptops and older desktops.
Best Ergonomic Keyboards Quick Overview
BEST VALUE
Microsoft B2M-00012 Natural Ergo Keyboard 4000
Perixx Periboard-512 Ergonomic Split Keyboard - Natural Ergonomic...
Logitech K350 Wave Ergonomic Keyboard with Unifying Wireless...
Adesso Tru-Form 150 3-Color Illuminated USB Ergonomic Keyboard...
MOST ERGONOMIC
Goldtouch GTU-0088 V2 Adjustable Ergonomic Keyboard -- PC and Mac...
BEST VALUE
Microsoft B2M-00012 Natural Ergo Keyboard 4000
Perixx Periboard-512 Ergonomic Split Keyboard - Natural Ergonomic...
Logitech K350 Wave Ergonomic Keyboard with Unifying Wireless...
Adesso Tru-Form 150 3-Color Illuminated USB Ergonomic Keyboard...
MOST ERGONOMIC
Goldtouch GTU-0088 V2 Adjustable Ergonomic Keyboard -- PC and Mac...
Ergonomic Keyboard In-depth Reviews
Below you can find our in-depth reviews on the best ergonomic keyboards to use for a year full of gaming, computing, and coding.
1. Microsoft Natural Ergonomic Keyboard 4000 – Wired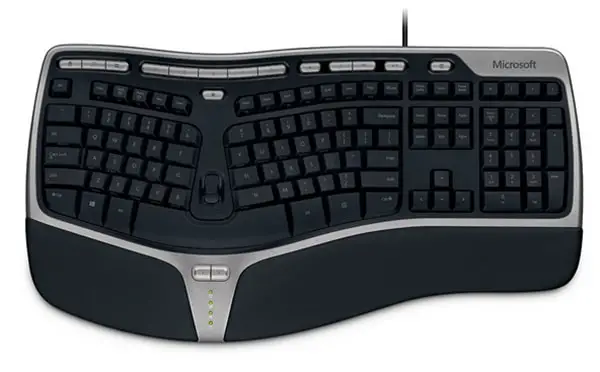 The Microsoft Natural Ergonomic Keyboard 4000 is best-selling and most sought-after lines of ergonomic keyboards today. This industry-leading ergonomic design keyboard has been associated with a considerable drop in carpal tunnel syndrome injuries of the wrists due to extended periods of use. With this advanced ergonomic keyboard design, users can position their hands, wrists, and forearms in a natural position for greater comfort.
Users can rest the wrists against the large plush, integrated palm rest in a stress-free natural angle with the keyboard's curved key bed to make computer use more comfortable and productive. Users can also enjoy a customizable, quick way of reaching files, folders, and web pages with conveniently accessible hotkeys.
Furthermore, users can even adjust the height for extra comforts in typing coupled with a zoom slider at the middle of the keyboard for close-in tasks to zoom in and out with a touch of a finger for easier viewing or editing. Inexpensive and yet versatile, this keyboard has all the characteristics users ask for in an ergonomic keyboard. This ergonomic keyboard is an able partner for Windows PCs and Macs.
Operating system – Microsoft Windows 10, 8.1, 8, RT 8.1, RT 8, 7, and Vista, Microsoft Windows 10 Phone, Mac OS X v10.7x – 10.10, Android 3.2 – 5.0
Keyboard Cable Length – 60 inches +/- 6 inches (1530 millimeters +/- 152 millimeters)
Interface – USB Compatible
Connectivity Technology – Wired
Zoom Slider – for close-in tasks to zoom in and out quickly and accurately with a touch of a finger for easier viewing or editing.
Customizable Handy Hot Keys – for performing regular tasks, such as opening files, documents, web pages, and replying to email messages with its conveniently accessible hotkeys with the touch of a button.
Improved Number Pads – for quickly reaching common numeric symbols, such as an equal sign, parentheses, and Backspace right where it is needed more – now conveniently located just above the number pad.
Breakthrough Ergonomic Design – Improved total ergonomic-typing tasks promotes natural hand, wrist, and forearm position for greater comfort and prevent repetitive-stress injuries.
ORDER NOW
2. Perixx 11295 PERIBOARD-512II B Ergonomic Split Keyboard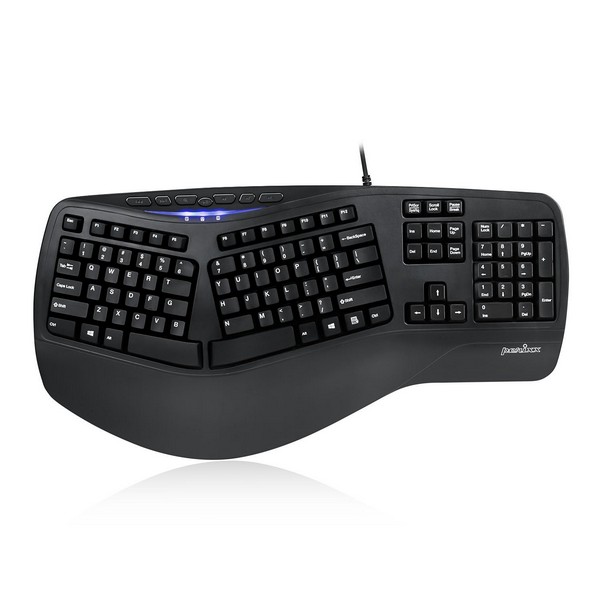 For all the comfort this Ergonomic Split Keyboard provides, the price is unmatched, a real bargain.
The Perixx 11295 PERIBOARD-512II B with an ergonomic split keyboard is ideal for all typing and computing works. It's natural ergonomically full-size design can be the user's last need of a keyboard. It is very easy, convenient and comfortable to use keyboard satisfying the need of every person, home, office, and other wide-ranging professional usages.
The integrated palm rest supporting a user's wrists make the interaction with the keyboard more seamless and added to it the num, caps, and scroll lock light status elegantly position in the middle above the split. Its ergonomic split keyboard design suggests comfort and convenience for long hours of daily typing and computing work that will ultimately result in relieving stress and body soreness and further prevents the occurrence of Repetitive Strain Injuries. Its 3-D split-key design provides users with natural posture as compared to non-ergonomic keyboards.
Designed – Full-size ergonomically designed keyboard
Connectivity – Wired USB 2.0
Split keyboard and 3-D design
7 Multimedia Hot Keys
System Requirements: IBM or Compatible PC System / Win XP, 7, 8, 10
ORDER NOW
3. Logitech K350 2.4Ghz Wireless Keyboard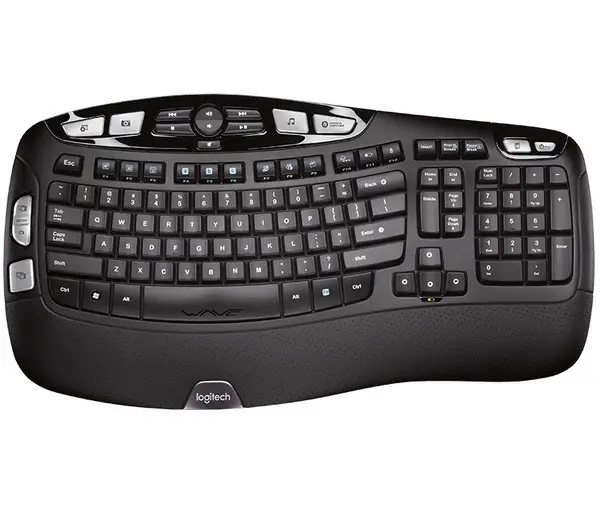 The Logitech Brand name is almost synonymous with electronics consumer products because of its unparalleled craftsmanship and dedication to design quality. One of its illustrious product on the market today is Logitech Wireless Ergonomic Keyboard K350 which become one of the best ergonomic keyboards on the market, a perfect example of the company's unmatched craftsmanship.
With its very distinctive Wave design and Constant Curve layout, this ergonomic keyboard guides your hands perfectly into the right position for greater comfort. A cushioned padded palm rest is meticulously incorporated into the Wave design for user's ease of use and convenience thus making typing and other computer-related works easier and fun.
Users can type effortlessly with self-confidence knowing that they don't have to re-learn typing on an unfamiliar keyboard layout. In addition to keys seamlessly integrated into the keyboard that moves up and down in a realistic wave pattern, this keyboard likewise features well-placed hotkeys for multimedia functions such as music, photos, and images, setting and/or switching between windows. K350 is the best choice for your production requirements.
Battery life – It gives users up to three years of battery life, based on a calculation estimated at 2 million keystrokes per year in an office environment. Although it may vary on user experience.
Unifying receiver – One tiny receiver connecting up to six Unifying devices. Plug it, leave it, and forget it, then add additional keyboards and mice to one computer.
Advanced 2.4 GHz wireless – Work or play in the comfort of your couch – this long-range 2.4 GHz connectivity effectively eliminates any delays, dropouts, and interference.
System Requirements – Windows-based PC | Windows® XP, Windows Vista®, Windows® 7, Windows 8, Windows 10 and USB Port
ORDER NOW
4. Adesso Tru-Form 150 3-Color Illuminated Ergonomic Keyboard (AKB-150EB)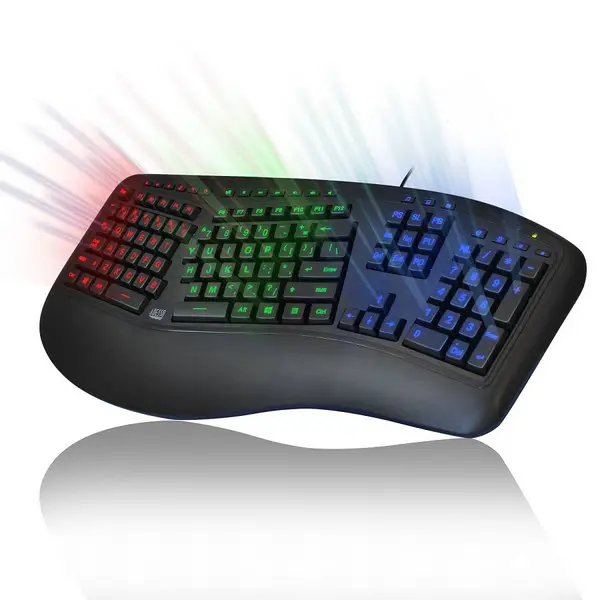 The Adesso® Tru-Form 150 3-Color Illuminated Ergonomic keyboard will let you work in the dark where other ergonomic keyboards won't. The illuminated, eye-soothing backlit keyboard which is specifically made to increased productivity while working in dark environments, a user can also easily switch to the desired colors between red, green and blue with one keypress, and regulate brightness up or down to go well with user's preferences.
The Adesso® Tru-Form 150 is designed with ergonomic split keyboard zones and a gentle sloping feature for the natural positioning of hands, wrists, and forearms thereby increasing the maximum comfort and extended period of use. Additionally, this ergonomic keyboard is also designed with membrane keys switches providing a much quieter and quicker response and endure too long term usage.
However, while the Adesso Tru-Form 150 is not a full RGB keyboard, it does feature three distinct, conveniently arrange key zones and three distinctively Tru-Form 150 colors: red, green and blue. Additionally, the Tru-Form 150 also include multi-functional hotkeys to allow swift access to multi-media controls, email, internet browser, and other common computing applications.
The modern and sleek, Adesso® Tru-Form 150 brings in the ergonomic keyboard comfort, style, and efficiency.
Ergonomic keyboard design – Gently sloping, split keyboard shape encourages maximum typing comfort. It also features built-in wrist support and a split spacebar. The Split-key and 3D design conform to the natural hands and arms positions, greatly reducing stiffness in shoulders, arms, and wrists.
Distinctive illuminated backlit keys – The illuminated, eye-soothing backlit keys allow the user to work in dim and dark environments, night or day, while at the same time easing eyestrain. The user can also change the backlit colors with just one touch of the key.
2X Size Large Print Keys – The large 2x very bright letters provides exceptional, superb contrast over other ergonomic keyboards that traditionally have small white letters on black keys.
Internet and Multimedia Keys – Quick access to multi-functional hotkeys usually used in Internet and multimedia controls with the 20 built-in hotkeys.
Quiet Membrane Key Switches – This provides a better tactile response and a much quieter typing experience of up to five million keystrokes.
Operating System – Windows® 10, 8, 7, Vista, XP
Connectivity Interface – USB Port
Connection – USB Cable
ORDER NOW
5. Goldtouch V2 Adjustable Ergonomic Keyboard – PC and Mac Compatibility (USB)
Typing on a computer keyboard, comfort is always the king. Typing on traditional keyboards cause users to splayed-out their hands in an unnatural position. This is the main cause of the development of carpal tunnel syndrome and other RSI related injuries. Goldtouch V2 Adjustable Ergonomic Keyboard – PC and Mac Compatibility (USB) are specifically designed as an answer to that RSI related injuries. This ergonomically designed split keyboard pull apart at the middle and adjustable for each type of individual to find the best angle that works best for them.
The Goldtouch V2 Adjustable Ergonomic Keyboard is distinctively designed to adjust the keyboard from 0°-30° on the horizontal plane to appropriately straighten out wrists and attain a more natural and relaxed position and 0°-30° vertical tenting positions to help in the alleviation of inward turning of the wrists (pronation), tendon pressures, and shoulders and arms alignment in a natural and more relaxed position. Additionally, each piece of the keyboard adjusts to suit every range of body types, meaning everybody in the office or at home can pick out a perfectly comfortable position with this ergonomic computer keyboard. Furthermore, each Goldtouch ergonomic keyboards are built slim and lightweight, making them an appealing add-on to every desktop.
System Requirements: Windows XP, Vista, 2000, 7, 8, and 10 | Mac OS 10.4, and newer | USB Port
Note: When switching between PC and Mac mode, move the switch located at the back of the keyboard to the desired operating system. Once selected and the keyboard is plugged into an open USB port, the keyboard will automatically install the drivers for the software of the desired operating system.
Connectivity -Wired
Hardware Connectivity – USB
Plug and play, Mac or PC full compatibility.
Pros of this ergonomic keyboard
Very easy to set up thanks to its plug and play software which is compatible with both Mac and PC computers. Also easy to adjust thanks to a ball joint locking system with its locking handle situated between the two halves which allow 30º of splaying and 30º of tenting.
Cons of this ergonomic keyboard
Locations of switching options between PC and Mac is not a well-thought idea because it is located at the back of the keyboard. Tilting is ergonomically and inadequately designed and foot risers do not work after the keyboard has been tented.
ORDER NOW
Best Ergonomic Keyboard with Mouse Combinations Quick Overview
Logitech MK550 Wireless Wave Keyboard and Mouse Combo - Includes...
Adseeo Tru-for 3500 2.4GHz Wireless Ergonomic Trackball Keyboard for...
Microsoft Natural Ergonomic Desktop 7000
Logitech MK550 Wireless Wave Keyboard and Mouse Combo - Includes...
Adseeo Tru-for 3500 2.4GHz Wireless Ergonomic Trackball Keyboard for...
Microsoft Natural Ergonomic Desktop 7000
Ergonomic Keyboard with Mouse Reviews
Below our favorite and most popular ergonomic keyboard and ergonomic mouse combinations for sale, tested and reviewed for you so you can continue working those long hours or gaming away without effort.
1. Logitech Mk550 Wave Wireless Keyboard and Mouse Combo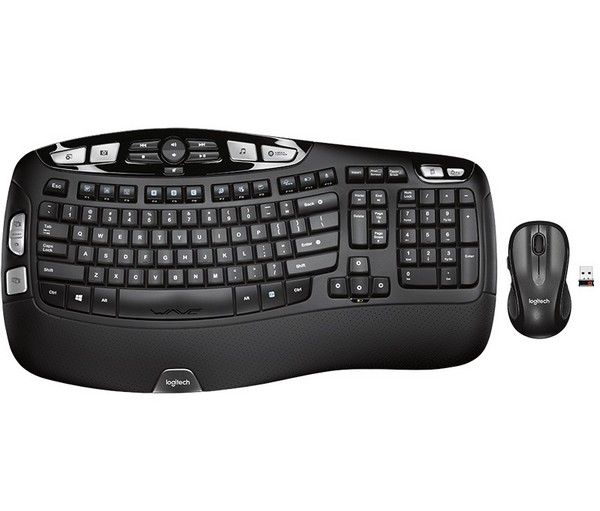 The Logitech Keyboard Reviewed
The Logitech Mk550 Wave is an illustrious combination between a standard keyboard and an ergonomic keyboard and this keyboard is one of the few wireless keyboards and mouse combos that stands tall from the rests. As expected even from its name alone, the Mk550 Wave Combo's keys undulate across the keyboard surface, with the G and H keys at the apex of the ripple. The rippling keys make the positioning of the hands relaxed in the home positions while the extended wrists rest keeps both hands stress-free, especially for extended periods of typing.
Many users like the responsiveness of the keys although the keyboard is not quite as soft upon key impact as compared to other silicon keyboards which are to be expected because of the hybrid mechanical/silicon key switch design. But this is mostly compensated because of the unique key designs which are concaved which help keep fingers in the right position to lessen the occurrence of typing errors. Additionally, Mk550 has a number of media, shortcuts, and zoom keys conveniently located across the keyboard which are also very important to a user. Media keys for volume and song skip controls are located centrally at the top. Shortcuts to open up photo and music libraries are located at the top of the keyboard as well as shortcuts in accessing the internet, email and a number of other resources. Finally, zoom keys are restfully located on the left side.
The Logitech Mouse Reviewed
Although a good number of mice struggled on a smooth surface such as marble and glass, the Mk550 mouse showed almost entirely no performance problem when tested on any kind of surface, a very remarkable achievement for a mouse in this combo package. The Logitech wireless mouse has high arching features that allow the palm of the hand to comfortably rest while the side grooves of the mouse allow thumb and fingers to also comfortably rest. This mouse has extra features such as a four-way scrolling and some additional clicking options just over where the thumb rests as compared to another mouse on a combo package. The scrolling wheel can be used to move through a web page vertically, but it can also be used to navigate horizontally by pressing the left or right side of the scroll wheel. The mouse's battery life is still impressive with two AA batteries for a two-year battery lifespan.
Totally, the Logitech Mk550 Wave wireless ergonomic keyboard and the contoured laser mouse gives users a comfort curve without the learning curve.
Contoured, cushioned, palm rest – It helps position the hands comfortably relaxed on the keyboard and also a comfortable place to rest the palms of your hands when not typing.
Hand-friendly laser mouse – Its contoured sides and soft rubber grips keep the palm of your hand comfortably supported and in total control while enjoying smooth and precise tracking virtually on any surface.
Batteries without hassle – A battery lifespan of up to three years for the keyboard and two years for the mouse almost eliminates the need to replace batteries.
Connectivity – Advanced 2.4 GHz wireless connection
Unifying receiver – One tiny receiver connecting up to six Unifying devices. Plug it, leave it, and forget it, then add additional keyboards and mice to one computer.
Operating distance – 30 feet (10 meters) with the receiver in clear sight of the keyboard and mouse
Package – The Logitech MK550 Wave Combo includes the K350 model keyboard and M510 Mouse
System Requirements – Windows-based PC | Windows® XP, Windows Vista®, Windows 7, Windows 8, Windows 10 USB port | Internet connection (for software download)
ORDER NOW
2. Adesso Tru-Form 3500 Wireless Ergonomic Keyboard with Trackball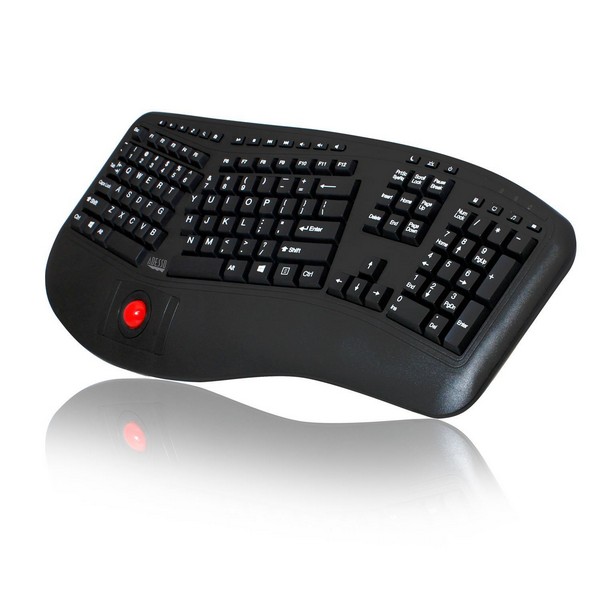 The Adesso tru-form media 3500 2.4 GHz is a wireless ergonomic keyboard with a trackball that has users efficiency and comfort in mind. It is designed with an integrated trackball in the middle of the keyboard to make it easier to fully control cursor movement and also take the place of the functions of the mouse. It has also split keyboard zones coupled with a smoothly sloping profile that is optimized for natural resting positions of hands, wrist, and forearms for prolonged use and maximum comfort. This natural positioning not just alleviates joint pain and get better posture, but has also made known to ease back pain and vertebral uneasiness. That's what's making it the best ergonomic keyboard with trackball out there. Furthermore, the wireless ergonomic keyboard is designed with membrane key switches for a soundless, quicker response and endure to long-term usage. This keyboard has wireless connectivity using a 2.4GHz Radio Frequency Wireless Technology with 30 feet working range at any angle.
Trackball with Universal Scroll – a fully integrated "push down and move it up and down" trackball built into the keyboard to give easier and full control of the cursor eliminating the need of a mouse and for fast web browsing and page navigation.
Ergonomically Design keyboard – split key zones with a gently sloping shape to promote natural positioning of the hands, wrists, and forearms in all-out comfort for long use.
Integrated Sloped Palm Rest – this keeps your hand in a natural resting position and alleviates joint pain and several bodily discomforts.
Multimedia & Windows Hotkeys – the built-in 7 Multimedia Hotkeys is integrated into the keyboards for easy access to favorite music and video playlist with just one-touch, while the 13 Windows hotkeys let you navigate swiftly to your files and web pages and to makes it easy to complete tasks.
Operating System – Windows® 2000, XP, Vista, 7, 8 and 10
Connectivity Interface – Wireless receiver for USB port
ORDER NOW
3. Microsoft Natural Ergonomic Desktop 7000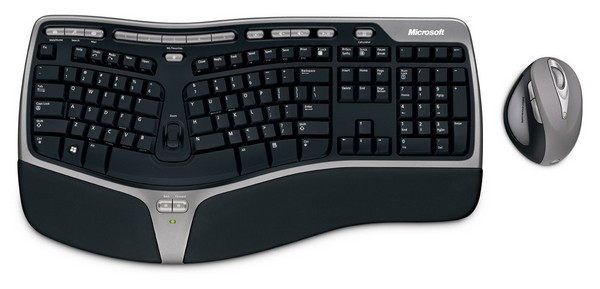 The Keyboard Mouse Reviewed
Individualistic customization and comfort are among the most convincing reasons to choose an ergonomic wireless keyboard and mouse duo. Heading the list is the Microsoft Natural Ergonomic Desktop 7000. Not only it is so appealing, but this ergonomic keyboard also provides a degree of comfort that exceeds that of other ergonomic keyboards in the market. Tilting of the keyboard is adjustable to meet the user's specific preferences by means of a removable riser that elevates the front or using the feet that fold down to raise the rear. The Natural Ergonomic Desktop 7000 uses the 2.4 GHz wireless technology to connect to the computer with a small transceiver, resembling a flash drive that is included in the package and plugs it into an open USB port to complete the connection.
The Ergonomic Desktop 7000 is a typical keyboard layout with numerous convenient additions. The top and bottom elevations are adjustable to just the right slant on the work. Added to it are programmable hotkeys and various buttons added to the keyboard for convenience and efficiency. The zoom slider is conveniently placed at the center of the normally dead space between the left and right keys. This allows quick and easy in-and-out zooming functions. Immediately beneath the space bar is the forward/back buttons allowing users to move between pages with just one touch. At the top are several handy silver buttons for quick and easy access to often-used apps and features. Five of these are programmable while the fixed buttons are used for accessing media, mute, play/pause, and volume control. Above the zoom slider is the My favorites button which is appropriately placed for easy visual.
The Microsoft Mouse Reviewed
Although the mouse's design is more radical, the user can still fittingly grasped the mouse from the side in the orientation as if you'd use to shake hands. By positioning so, your hand is adequately supported by the desk and can move in a more natural way significantly reducing stress and discomfort. The major advantage of the mouse is that's ergonomics designs are more pronounced although the side buttons are somewhat placed awkwardly.
The mouse is exceptionally responsive and accurate for it features the Microsoft-proprietary high-definition laser technology to perform its functions. Added to it is the four-way scroll button for up, down, left and right navigation. Furthermore, all the five buttons on the mouse are customizable to the user's desired preferences using the software that is included in the package. Once installed, a software icon will be visible on your desktop leading you to an extensive mouse properties screen. An option to make software-specific settings for the buttons depends on which applications are used.
2.4-GHz Wireless Technology – delivers a reliable and consistent connection with up to 30 feet range with virtually zero interference.
Advanced Ergonomic Design – for working in total comfort using a keyboard and designed to promote a perfect, natural wrist and arm alignment.
Four-Way Scrolling Mouse – scroll for much greater efficiency and comfort using the mouse's tilt wheel.
Magnifier – Point and click to enlarge and edit details by using the magnifier.
Battery Life Indicator – the battery status indicator glows red when the battery is running low.
System Requirements – Windows Vista, XP Professional, Home, and Media Center Edition
Batteries – 4 x AA Alkaline Batteries (two each for keyboard and mouse)
Interface – USB
The Ergonomic Desktop 7000 keyboard and mouse uses both two AA alkaline batteries for a maximum of six month's typical use.
Pros of this Keyboard and Mouse Combination
Wireless, comfortable and ergonomic for both devices. Keyboard height and angle easy to adjust with raised center, split keyboard designs make typing comfortable.
The mouse is exceptionally responsive and accurate. Distinctive mouse design keeps the wrist at a neutral angle.
Cons of this Keyboard and Mouse Combination
Keyboard keys and scroll wheel offer a bit too much resistance for ultimate comfort.
Mouse a little bit hefty and may results in a problem for smaller hands. Mouse's side buttons are somewhat placed awkwardly.
ORDER NOW
Benefits of an Ergonomic Keyboard
Actually, the key benefits of an ergonomic keyboard are that it supports the natural position of the user's hands and arms while typing compared to those demanded by the traditional keyboard, potentially bringing down repetitive-stress injuries such as Carpal Tunnel Syndrome. While typing, it prevents the positioning of the hands inwards almost forcing the middle finger to be in-line with the wrist and forearm, thus averting an unnatural strain from the conventional keyboard.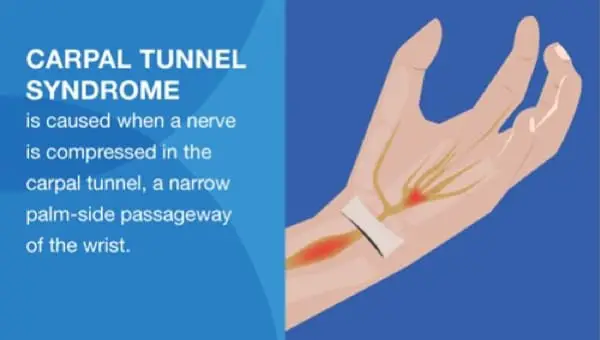 This keyboard technology could increase productivity and maintain the user's hands and wrists relaxed for extended periods of use. An ergonomic keyboard is designed so that a user only has to use a soft touch to type a letter instead of strongly pressing hard the keyboard keys. Given that the wrists and finger positions are not strained and holding them in awkward contortions because of continuous use users could easily relax the wrist and hand
On the whole, ergonomic keyboards are not only simpler and more comfortable to use than conventional inline keywords, but the typing speed and accuracy will almost certainly improve because of it. Many combinations of layout designs are available to suit every computing needs and improve your ergonomics.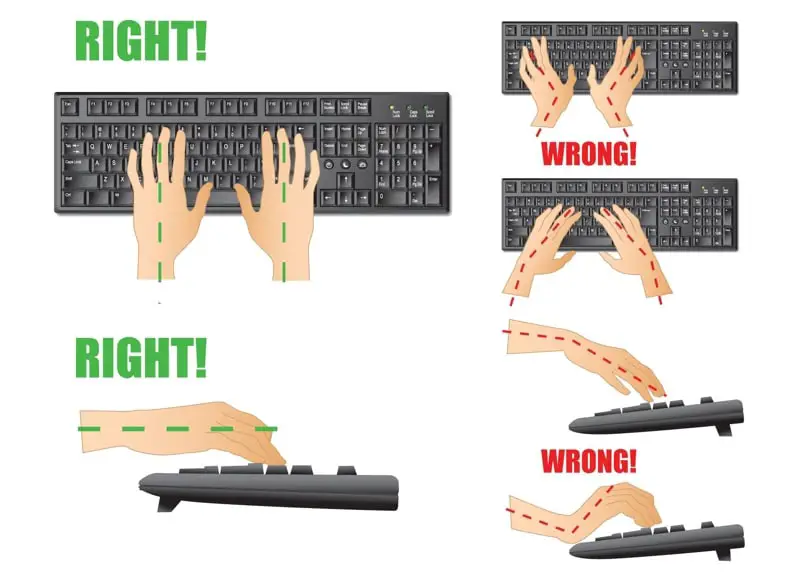 Ergonomic Keyboard Buying Guide
Ergonomic keyboards can be group into 3 types: Adjustability, Split key and Tactile response. There are not many choices when it comes to ergonomic keyboards and yet picking the right one is still a continuous process, but we should remember the main purpose of choosing the right one.
It is good to know that every ergonomic keyboard is designed to follow the symmetry and the neutral position of a human body, encourages a better posture of the user to reduce neck, shoulder, hands, wrists, and pain and strains in the lower back, and allowing the user to become more productive and efficient and speed up productivity in a healthy and comfortable manner. An ergonomic keyboard can help mitigate these injuries and even prevent every pain associated with such injuries.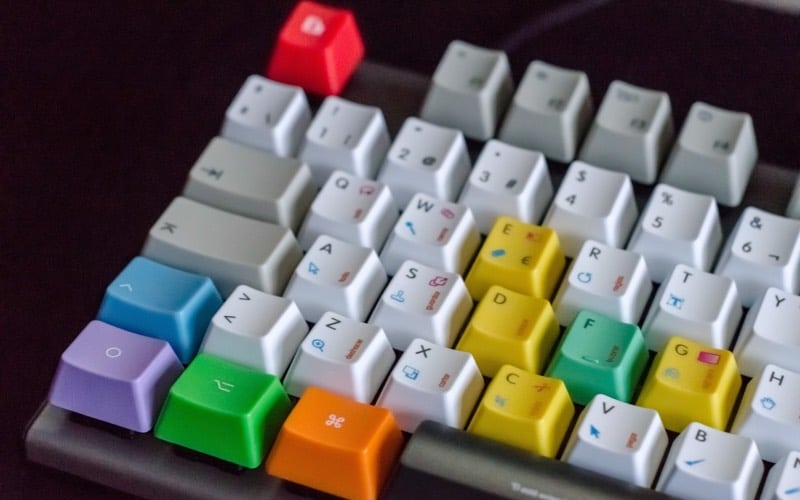 Here are a few of the things to look for to ensure you are getting the right ergonomic keyboard.
1) The adjustability of the Keyboard
The only reason why most non-ergonomic keyboards are the main causes of much pain and discomfort is that they're fully one-size-fits-all. Looking at the diversity of people around you can easily surmise how silly this is. With all of that hands and wrists sizes, as well as the many different ways an individual type, a keyboard needs to be fully adjustable to provide with the utmost comfort.
Otherwise, the muscles have no choice but to strain awkwardly to type that may result in injuries. An ideal ergonomic keyboard must be adjustable on both horizontal and vertical planes so that the hands can float naturally over the keyboard without straining the wrists too far up, down, or to the left or right.
2) Split keyboard
The biggest problem with traditional keyboards is that they're straight and flat. You've probably not noticed this before, but have a look at what happens when you type on one of these keyboards. Look at your hands splay out to the side. See? Using a split keyboard, your hands can move toward a natural angle, without twisting or straining. This approach significantly lessens the amount of pressure and tension exerted on your wrists, hands, joints, and forearm.
3) Tactile response
A good keyboard to be ergonomic, it has to provide a semblance to the user that the keys have proper switching and no more added pressure needed to be applied. Lack of tactile response will lead you to hit keys far harder than it is supposedly pressed, again injuring your tendons.
A good ergonomic keyboard will keep your hands happy and comfortable, which in the end will keep your mind focused on the job and productivity rates up, and much more if you also have a laptop backpack for easy carry and travel. So, now that you have information and may have understood the different types of ergonomic keyboards in the market today, it is now best to understand more about wireless routers.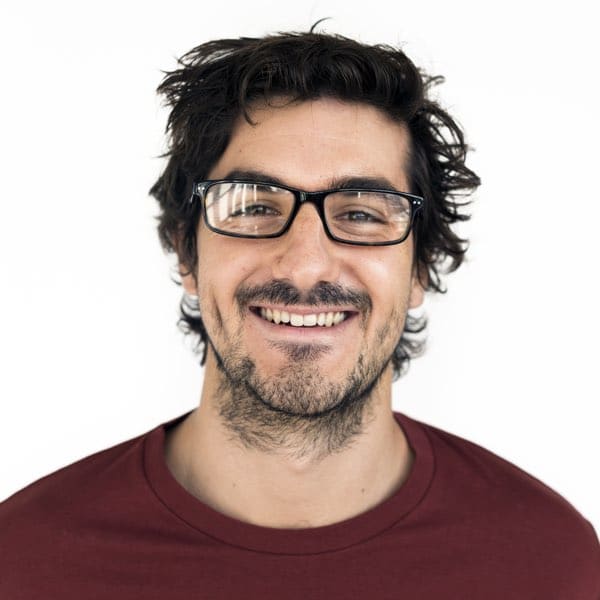 SAY CHEESE! My name is Mike and I love technology, software, and crypto. I grew up around my 'nerdy' engineering parents who've worked for high tech start-ups and aerospace companies. They've taught me everything I know, from destructing the latest phones to playing around with drones, writing lines of code and investing in cryptocurrencies. I take things apart, put them back together and add some (code). I breathe and live tech and can't wait to teach you more!