If you want to locate a vehicle, precious items, or your pets and kids, a small GPS tracker can easily track and display the locations in realtime.
But not all mini GPS trackers are the same. That's why I am here with a comprehensive list of the smallest GPS tracking devices after trying and testing 50+ similar devices.
Let's hop right in.
Things To Know Before Buying A Mini GPS Tracker
Before I list off my best-ranked products, it is essential to understand a few critical points about GPS trackers.
How a GPS Tracker Works
A mini GPS tracker fetches the location of a target person or object using a combination of technologies – WiFi, satellites, and LBS.
When tracking via satellites, the tracker needs to be in direct line of sight to a minimum of three different satellites to calculate a location based on triangulation.
WiFi tracking makes use of router's MAC-address to locate a device.
The LBS is a third way to determine the location. It calculates the distance of the device from the nearest radio tower.
Purpose of the GPS Tracker
One of the best parts of a small GPS tracker is that it can be fixed on all knick-knacks. Whether you want to locate items like jewelry, a wallet, and luggage, or you want to track the location of your kids, elderlies, or dog – a small and lightweight GPS tracking device is what you need.
And ofcourse, most often miniature GPS trackers are perfect for location tracking vehicles like cars, motorcycles, and bikes.
Tracking Features and Tracker Specifications
I believe you should be clear about the features that you need in your mini GPS tracker. For instance, when I was looking for the one, I looked for essentials like geofencing, location sharing/real-time tracking, SOS button, mobile app, and great battery life.
However, if you have advanced requirements, you could also look for additional features like remote camera, countries that are covered, charging, size, and so on.
Cost of the GPS Tracker
Price is an essential factor to focus on while buying a small GPS tracking device. If you don't have fancy requirements, I recommend going for an average-priced tracker, as you are bound to lose a lot of them, all thanks to their compact size. Keep in mind that, above the initial purchase price, many GPS trackers also come with a monthly subscription cost. That's for using their cloud platform or app. You'll discover below which GPS tracker subscriptions are worth their money.
Top 10 Smallest GPS Trackers Reviewed
Here is my favorite section, where I will list my favorite smallest GPS trackers. Mind you, I am hearty when talking about the pros, but could get extremely critical with cons. Rest assured, I will help you make the right choice.
LandAirSea 54 GPS Tracker
Here is another small GPS tracker that you must consider. The tracker fits in the coziest of places perfectly. So, insert it in your kid's pocket, and enjoy peace of mind. You can also fit it snugly to your luggage or hide it discretely so that it is not visible.
The LandAirSea GPS tracker provides you with real-time updates. All you need to do is keep an eye on its Silvercloud app or catch the live updates on web-based software.
Although I won't call this tracker the smallest of all as it measures 2.25 x 2.25 x 0.80 inches and we already have a few smaller ones on this list, it is waterproof with a built-in magnet. This means that it can serve any purpose rightfully.
You can fit it in your vehicle, or attach it with your pet without worrying about weather conditions and all.
What I like about this small GPS tracker
Made in the US
Tracks movements in real-time
Comes with a SIM card
Its SilverCloud app is easy to access and keep an eye on
Waterproof with built-in magnet
Cons of this GPS tracker
Only works in the USA, Mexico, Canada, Europe, Australia, Africa, and Asia·      
Requires a subscription
Bouncie Mini GPS Tracker For Car
If you are not sure of your child's driving skills, or just want to keep your spouse safe while driving, this tiny GPS tracker from Bouncie is what you need to enjoy peace of mind.
The best part of this app is that it provides you with an updated location every 15 seconds, while also providing in-depth insights into route details, trip history, and geo-zones. It monitors the speed of the target vehicle, records driving events, and issues custom alerts. This car tracker gives you the most complete realtime driving information!
You might not have seen this coming, but the Bouncie GPS tracker can also issue notifications in case of an accident. If this was not all, it also determines your vehicle's health and checks if the battery is low or the engine light is on.
Amazing? I know, right.
As a disclaimer, I would like to mention here that this device doesn't work secretly. You need to plug it into the OBD port on your vehicle and wait for the magic to happen.
What I like about this small GPS tracker
Best mini tracking device for cars
Easily access Bouncie on your smartphone or computer
Provides comprehensive and accurate trip data
Low monthly subscription fee
Issues alerts on the health of your car
Ideal for monitoring your kids, spouse, and elderlies or staff members when they drive
Cons of this GPS tracker
Only works when the ignition is on
Jiobit Smallest Real-Time Location Tracker for Kids
Here is one of my favorite picks. I have been personally using this one for a few months now, and have not faced any issues so far.
The device provides unmatched security and encryption. It won't be wrong to say that the security used by the Jiobit GPS tracker is comparable to the standards set by the US government. So, you can be sure that this mini GPS tracker cannot be taken over by hackers. I'm all about keeping my information secure! You too?
Further, the tracker's small, lightweight, and durable design has all my votes. You can clip this mini GPS tracker secretly onto clothing, or shoes, or items, and you are done.
The device will track at any distance, even indoors. So, if you often end up misplacing and losing your items within your house, this tracker is what you need.
To further make our lives easier, the device also issues timely notifications whenever its location changes.
Rest stay assured of the quality of this one. Jiobit is a reputed US company with its headquarters in Chicago.
What I like about this small GPS tracker
Easily track locations through its easy-to-use mobile app
Safe, secure and reliable tracker perfect for tracking the location of kids
Provides accurate and precise location updates in real-time
Made in the US
Miniature-sized and cute, such that it doesn't look like a tracker at all
Cons of the GPS tracker
Tile Pro Bluetooth Tiny GPS Tracker
Tile Pro tracker probably doesn't need any introduction; after all, it is one of the most popular trackers we have had so far. For the unversed, Tile is a powerful Bluetooth tracker that is known for its high-performance and robust design.
The device helps you locate your misplaced things within 400 feet of Bluetooth range. All you need to do is use your smartphone to ring Tile, and you are done.
Alternatively, if you happen to misplace your phone, simply double press the Tile button on the device. This will make your phone ring even when it is on silent mode. This device is no less than a boon to me, I do lose track of my phone a lot of times during the day, and the worst part, most of the time, it is on silent. Tile has been my ultimate savior.
Another amazing feature of this app is that it remembers when and where you left something behind, so you can track its location and retrieve it on the go. Perfect for keeping your wallet close to you.
Thus, next time you go hiking or camping, and living your active life, you know what to do first – fit Tile securely, and you are good to go.
What I like about this small GPS tracker
Replaceable battery
Find your phone even when it is on silent mode
Attach the Tile to any precious item and locate them on a map
Use Community Find to track a lost item
Integrates well with both Alexa and Google
Cons of the GPS tracker
Can only communicate via Bluetooth
Based on 4G satellite technology, Spytec mini GPS tracker is another valuable addition to this list.
I mean, if you are in doubt, you can trust the capabilities of this GPS tracker. One of the best parts, which is also the least that I ever expect from a GPS tracker, is its ability to provide highly accurate locations.
So, no matter whether you are tracking in dense urban areas or remote country roads, this little Spytec tracker will not disappoint you. You can also choose to receive the location data of the Spytec tracker directly on your phone, computer, or tablet via its Android and iOS apps.
This small-sized tracking device is just one inch thick, so it is one of the smallest on this list. This also makes it discreet and versatile. It is backed up by a durable battery as well, which is expected to last about two and a half weeks.
What's more, the Spytec device doesn't store your confidential information and is extremely secure to use.
What I like about this small GPS tracker
Just one inch thick, and one of the smallest GPS trackers available
Provides accurate location updates in real-time
Includes geofencing
Battery that lasts 2.5 weeks
Comes with an SOS button, in case, it is used for the safety of your elderlies and kids
Cons of the GPS tracker
Americaloc GL300W Mini Portable Real Time GPS Tracker
If you are already using the Americaloc GL300, then GL300W is here with even the finest features. Being small and compact in size and powerful in performance, you can receive location updates of any target on the go.
Don't want to receive updates too frequently, or do you want to keep yourself updated every 10 seconds? Whatever your requirements are, the Americaloc tracking device can be configured accordingly for no extra cost.
Americaloc GL300W also provides you with one year of tracking history, so you are always in the loop as far as the target location is concerned.
The device sounds off alerts when it moves, parked, speeding, low on battery, entering or leaving marked zones, or when the SOS button is pressed. It also comes with a long-lasting battery that fuels your device for weeks.
What I like about this small GPS tracker
Works in most of the countries of the world
Extremely easy to use
Provides real-time location updates along with one year of tracking history
Can be tracked from computer and smartphone alike
Issues a range of notifications to you
Allows you to configure the location updates duration for no additional cost
Cons of the GPS tracker
Customer service needs some improvement
Requires subscription
Amcrest Portable GPS Tracker
Here is another small GPS tracker, I couldn't help but include in this list. This compact 4G micro-sized GPS tracker from Amcrest is a perfect fit for locating tracking vehicles, assets, items, and loved ones.
Flaunting a sleek and compact design, it is straightforward to use. Slip it inside your backpacks, luggage, strollers, and cars. Completely concealable, this real-time tracker will keep you updated with the latest location of the target object/person.
The Amcrest device comes with a highly intuitive smartphone app for both iOS and Android platforms. Additionally, you can also get real-time updates, every 5 seconds, through Windows and Mac desktop web-access.
The GPS tracker allows you to set up geofencing alerts such that it will notify you every time it enters or exits a zone via push notifications, email, or text.
The device powers a strong battery capable of lasting up to 10-14 days when updates are received every 60 seconds. However, if you wish to receive updates every 5 seconds, it will last 2-3 days, which is pretty understandable.
So far, one of the best GPS trackers I have ever come across, truly!
What I like about this small GPS tracker
Small, compact, and conceivable
Long-lasting battery life
Lifetime warranty and support
Shows accurate locations
Straightforward to set up
Cons of the GPS tracker
Only works in the USA, Canada, and Mexico
PetFon Mini GPS Tracker with Audio for Dogs
I have mentioned a lot of multipurpose mini GPS trackers, but if you are a dog or cat owner then this tracking device is definitely one for you.
This small GPS tracker made by PetFon is specifically designed for dogs, cats, and other pets. The device makes terrific use of a range of technologies like WiFi, Bluetooth, GPS, and long-distance wireless technologies to provide the most accurate real-time location of your pet.
The tracker is rainproof, durable, and extremely compact. It also doesn't come with any monthly or service fees.
The device is effortless to use. All you need to do is install the PetFon app, and follow the instructions that follow. The device will update the location data of your pet in real-time on the app and help you keep a tab on its location. The tracker is so precise that it is capable of tracking ranges up to 0.65 miles even in dense spaces, and 3.5 miles in an open environment.
And yes, here is the feature that I like the most – activate the colorful lights on the tracker. So, in an unforeseen event, when you happen to lose track of your pet, these lights will have your attention. That's a wonderful feature to be to have during evening and night dog walks. What's more, the tracker also allows you to interact with your dog remotely, thanks to its audio capabilities. It stores your voice commands!
As I said, this is one of the smallest GPS trackers on this list – measuring only 42 mm x 42 mm x 18 mm. It powers a long-lasting battery that lasts up to 8-16 hours.
What I like about this small GPS tracker
A dedicated mini GPS tracker for dogs
Easy to attach to your dog or pet
Doesn't require a monthly subscription, free for life
Allows you to set geofencing
Great audio features; it lets you communicate with your pet with stored voices
Durable and waterproof
Geared up by a powerful battery
Cons of the GPS tracker
Cannot be used to track pets indoors
Tracki 2020 Mini Real Time GPS Tracker
Track your assets in real-time with Tracki. Whether you want to track a vehicle, an item, your kids, or pets – this mini-sized GPS tracker provides you with an accurate location with real-time updates.
The device allows you to keep a tab on your most important items. It will send alerts and notify you through app, text, and email. Did someone break into your car? Don't worry, Tracki will issue a notification instantly as its location gets changed, and keeps you posted in real-time.
The tracker provides you with a data-rich dashboard that can be accessed on any computer. You can also keep an eye on Tracki through its mobile app, and locate anything within 10-60 feet.
What's more, it also comes with an SOS. So, your loved ones can press it whenever needed, while an alert will be issued to you.
What I like about this GPS tracker
Allows you to set up speed alerts and start moving alerts
Miniature GPS tracker weighing only 1.4 ounces and measuring less than 1.8 inches
Provides you with history reports, mapping all past locations with time stamps
Can be attached to anything – drone, purse, vehicle, handbag, iron surface, dog, and so on
Allows you to track up to 50 devices per account
Very well priced
Cons of this GPS tracker
Requires additional subscription
Battery only lasts a couple of days
Cube Bluetooth Tiny GPS Tracker
Cube is yet another tiny Bluetooth tracker that I wanted to have on this list. I know this one is very similar to Tile, but being such a multipurpose tracker, it is well worth including. Especially if you tend to lose your wallet or purse often.
You can attach this tracker to almost anything, and even keep it in your wallet. But in addition to tracking the location of your belongings, pets, and kids, this fantastic device also serves another vital purpose; it lets you take family photos. And this is the reason that I thought of having this tracker on this list.
If you are already curious about clicking photos, all you are required to do is use Cube as a shutter button of your phone camera. So, you don't have to take those weird selfies anymore. Just position the camera comfortably, and press the Cube, and you are done.
Similar to Tile, it also allows you to locate your phone, and comes with a replaceable battery.
What I like about this small GPS tracker
Also works as a selfie remote
Provides you with accurate map locations
Helps you locate most of your precious items
Waterproof certified
Even survives in extreme weather conditions
Cons of the GPS tracker
Tracking range could have been better
Frequently Asked Questions On Small GPS Trackers
How does a mini GPS tracker work?
A tiny GPS tracker works by secretly tracking a vehicle or person's movement and uses the data received through WiFi, Bluetooth, and satellites to calculate the accurate location.
How much does a small GPS tracker cost?
Depending on the features they have, a reliable small GPS tracker can cost anywhere between $25 and $250.
How small can GPS tracking devices be?
A GPS tracking device could be as small as a coin, ranging around one inch of size. These devices are perfect when you do not want to make their presence obvious.
What is the smallest GPS tracker in the world?
Technology is ever-advancing, and so the size and features of the smallest GPS tracker keeps on changing. At present, some of the smallest GPS trackers are TrackerPad and Ping.
One of the smallest GPS tracking chip is the Micro Hornet GPS chip. It is just 8mm in size.
What is the smallest GPS tracking chip available?
Small GPS Tracking Buyers Guide
If you are out in the market looking for the best smallest GPS tracker, here are a few things to consider:
Applications and uses of a GPS Tracker
Small GPS tracker for cars:
If you are worried about your elderly or kids and often get anxious when they drive, a small GPS tracker for cars is the best solution. Just fit the device (check out Bouncie) at a secure location in the car, and it will keep you updated with the speed limits, location, and more critical details in real-time.
Small GPS tracker for kids:
It makes sense to feel possessive for your kids. Further, they are most prone to land in trouble. To prevent any unforeseen events from happening, slip a small GPS tracker for kids in their pockets, or bags, or attach it with their shoes, and keep yourself updated with their location in real-time.
Small GPS tracker for pets:
If you own a dog or cat, you would already know how difficult it is to locate them sometimes. While cats tend to hide in the coziest of places, dogs often run away. This is when a small GPS tracker for pets, like PetFon, can come to your rescue.
Small personal GPS tracker:
Do you love adventure? Do you often go on hiking and camping tours? The best way to keep your belongings safe is by attaching a GPS tracker to them, similar to Tile and Cube.
GPS tracker for tools and equipment:
Running a small business is tough, especially when you have lots of tools and equipment to deal with. Not anymore. Fit a small GPS tracker in your most useful and expensive items, and never lose track of them.
Technologies
There is a range of GPS trackers available in the market. Most of them are based on one or a combination of these technologies – WiFi, Bluetooth, and GPS.
Features
Most GPS trackers are capable of providing you with an accurate location of the target person/object. This is the most basic feature that they all have. Additionally, other important features include the SOS button, android, and iOS app, geofencing, speed alerts, accident alerts, and so on.
Sizes
You can find GPS trackers in all shapes and sizes. Some of them are cute (think of Jiobit), others are portable, and conceivable, depending on their intended usage.
Do You Need A Micro GPS Tracking Chip?
Micro GPS tracking chips work similarly to GPS trackers. However, they are miniature tracking devices. You can attach a chip to any object, and it will never attract any attention. Further, such chips are easy to carry around due to their compact size. That is to say; this doesn't mean that they provide inaccurate readings.
In fact, a GPS tracking chip is as capable of providing accurate locations, like a GPS tracking device. Most chips make use of signals from satellites and transmit data to a controlling device via wireless connectivity.
In Conclusion
Here you go. I hope this article would have provided you with all the important insights about the smallest GPS trackers. I understand that there is an array of them available in the market, and choosing just one of them is difficult. I hope this buying guide on GPS trackers would have solved this problem.
Rest assured, go ahead with my recommendations, and I believe you will not be disappointed.
So, what are your views on this? Have you already used the trackers mentioned on this list? How was your experience? Do share it with me in the comments below.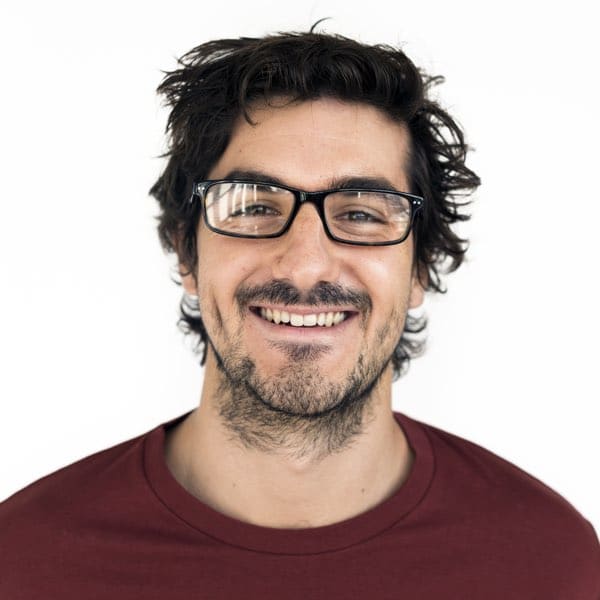 SAY CHEESE! My name is Mike and I love technology, software, and crypto. I grew up around my 'nerdy' engineering parents who've worked for high tech start-ups and aerospace companies. They've taught me everything I know, from destructing the latest phones to playing around with drones, writing lines of code and investing in cryptocurrencies. I take things apart, put them back together and add some (code). I breathe and live tech and can't wait to teach you more!