Buying the best spy camera glasses is a matter of your specific needs. Don't worry, If you are reading this article, you probably already have a use in mind and you are looking for the best option.
I have listed the top 7 choices and sorted them by categories based on the most looked-for features. Are you a private investigator or security worked looking for a new tool to add to your utility belt? Or someone practicing sports who want to record all the action as it happened?
In any case, keep reading, as I will be providing you with the best spy camera glasses options out there, which are sure to fulfill your needs.
Things to Consider when buying Spy Camera Glasses
We all love to get a bang for the buck! And by this, I am not meaning only to get a product of good quality and with the specifications, you would expect from the price tag, but also accessories and design.
When choosing the right pair of spy camera glasses, you should make sure to check different factors such as:
Camera Quality
Audio Capability
Extra Features
Design and Build
Battery performance
Discreetness
Ease of use
Price
This might sound like a lot, but don't worry. All of my selections will be letting you know about these aspects of each pair of glasses so you can select the best option for your specific case. Just focus on the specific category you are interested in or keep reading to find your next pair of spy camera glasses.
Top 7 Best Spy Camera Glasses Reviewed
Enough beating around the bush. You are here to see what are the best camera glasses out there, after all. Keep in mind that there might be other options out there that adjust to what you are looking for, but these selections will prove to be the best in each of their categories.
1. Best HD 1080p Spy Glasses: iVue Rincon 1080P HD Sport Sunglasses
No products found.
No products found.
iVue is one of the most recognized brands when it comes to camera glasses, having been in business since 2012. The company focuses on developing products that are both stylish and useful, creating products users can use professionally.
While you won't be pulling off international spying operations with these glasses, they are subtle enough for you to use them without people immediately knowing you are recording. The iVue Rincon Sport Sunglasses look just like normal sunglasses you would see someone wearing when doing sports or outdoor activities unless you pay extra attention to the rim over their nose.
The Rincon's rim is made of Grilamid TR90, a lightweight and durable material that provides a comfortable fit. The rim is also waterproof with an IP55 rating but doesn't submerge it as it is only protected against water jets projected by a nozzle or light rain.
The glasses have a 110° Wide Angle Lens that allows you to capture a wide area of the action you are seeing at any given time, as this is just 25° less than your horizontal field of view. It is also possible to tilt the camera vertically by 22 degrees, allowing you to capture that shot you are aiming for.
These glasses offer 2 different resolutions options with different framerates: 1080p at 30 fps or 720p at 60 fps, the first one being considered full HD, and the second one HD. While the 60 FPS offers a smoother and more fluid image, it is worth noting that 30 FPS is still a good frequency. A dual AAC2 Stereo Mic is also included, so you be able to get the audio with your videos to make sure to have a perfect record of your experience.
The Rincon's offer 1.5 hours of battery life while recording, as it is powered by a 480mAH battery. It doesn't offer internal memory but can use a micro SD card of up to 128 GB, with the time of video depending on the resolution of your choice.
You will also be able to connect your glasses to any iOS/Android device by using the "iVUE Rincon" app. The app has a bad rating on the Play Store that shows there might be instability for certain devices, but these comments seem to precede the latest update.
The camera includes multiple accessories, giving you a better deal for what you pay. In addition to the glasses, you will receive yellow tint lenses, a USB charge cable, a hard zipper case, a soft bag, a dust cloth, an SD card reader, and the manual. The iVue Rincon 1080P HD Sport Sunglasses are not the most expensive glasses in this list, but they are not the cheapest either. At this time, the price is around $170, making it a great deal for the features they offer.
2. Spy Glasses for Kids: SPY NET Stealth Video Glasses
Who didn't love pretending to be a spy as a kid? I know I did! I would run secret operations that would be as varied as stealing cookies from the cookies jar to infiltrating my parent's room to get a sneak peek of the Christmas gifts. Sadly, the last one backfired as that is how I found Santa was not real.
When looking for a spy camera glasses for kids, you might want to look for options that are specially designed to fit them as well as being durable enough, as kids are not known for taking care of toys when playing secret agent. Price is also a great concern, as these are not meant to offer top-notch specs but just to provide fun.
The stealth video glasses from SPY NET are designed specifically for kids between 8 to 12 years. Given the obvious size differences between a kid and an adult's head, this is important to keep in mind as other options in this list wouldn't allow your kid to sneak around or run if the mission is compromised.
As with most kids' toys, the design is made to be as "cool" as possible in a way reminiscent of Smash Mouth, but kids are sure to love it. The material is not of the best quality but it is made of a plastic sturdy enough not to break easily.
The glasses can record 20 minutes of video or 2000 pictures, which is not great when compared with the adult versions. However, these should be more than enough time for a kid to run missions in a session of play as they might not be recording all the 20 minutes non-stop. The quality of the video is good enough for kids to revisit the action they recorded at 320×240.
The camera can be easily charged by using the included USB charger cable that might be a bit too short for comfort but can be replaced by any other mini USB cable you have laying around. These glasses are great for kids to have some fun and good around at a price of around $40, but don't expect to use them to record the next wedding you assist to.
3. Spy Safety Glasses: GOGLOO E8 Full HD 1080P Sport Video Camera Sunglasses
There are no better options than the GOGLOO E8 when it comes to sport spy safety glasses. Offering a stylish design and powerful features, as well as the widest range of view in this selection, this is a great option for people looking for glasses for sports like cycling.
The frame is made of [email protected], a strong and yet flexible material that makes the glasses resistant to impacts and comfortable to wear. Their unique design makes them perfect to protect your eyes while practicing activities that involve high speed, as well as a design that ensures they offer comfort when wearing them.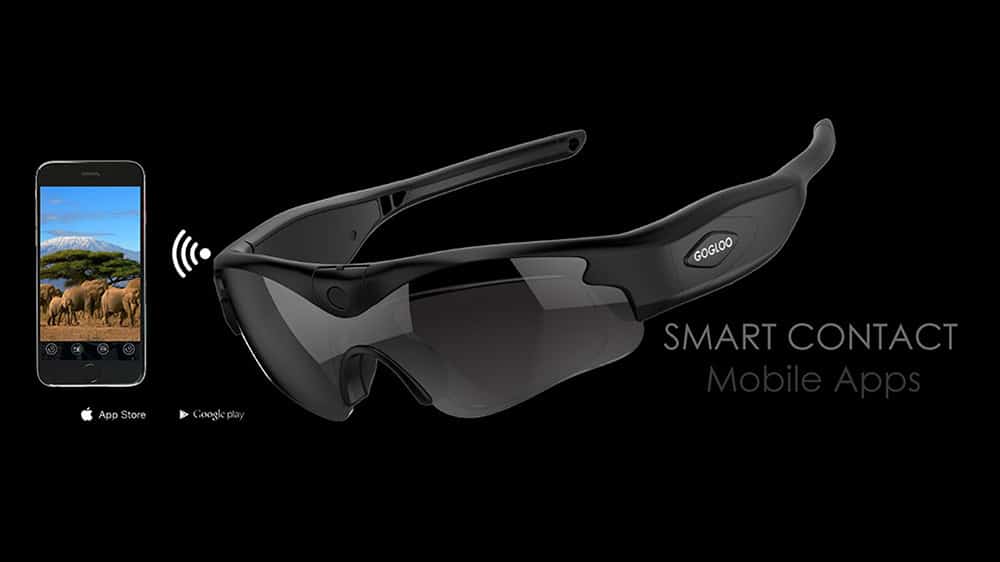 The E8 Glasses might have a successor in the E9 version but can offer a wider range of vision with 150° of vision which allows you to capture your field of view. The resolution will not be a problem, as the camera offers Full HD quality with 1080P at 30 FPS with 10MP.
While the performance of the camera offers everything you need in terms of power, it doesn't do so in terms of discretion. The camera is placed in the rim just over the nose, with no attempt to hide the lens. However, this is expected of a camera whose main purpose is to offer protection and convenience when doing sports.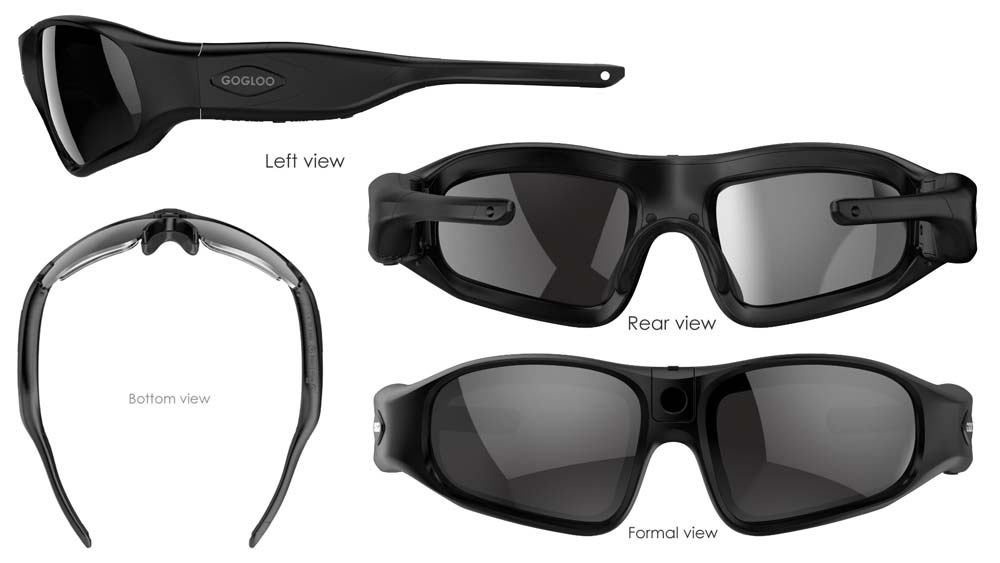 The battery offers a good performance by allowing the glasses' camera to record up to 95 minutes at max quality. This is possible due to the capacity of 500mAh high capacity lithium polymer battery. However, you might not be able to take advantage of this if you are in a hurry as the battery will take about 3.5 hours to charge completely.
The camera is easy to use, requiring only the press of a button to start recording and another press to pause, with vibration letting you know when the mode has changed.
The glasses come with a Carrying hard case, Lens bag, Cleaning Cloth, Soft bag, retaining lanyard, Micro USB2.0 HS cable, USB2.0 HS card reader, and 2 Soft Rubber Gaskets. It also comes with a 1-year guarantee you can take advantage of if needed. The E8 spy safety glasses with cameras cost around $100 at this time, making them a good option if you are looking for high quality at an accessible price.
4. Spy Prescription Glasses: Hereta Spy Camera Glasses
These are the perfect glasses if you require prescription lenses like me! I wouldn't blame you if you saw my picture on the home page and thought it was a question of style as I know they look great on me. Well, the truth is that there was a personal factor when I chose the Hereta Spy Camera Glasses.
These glasses look pretty much like any other pair you would see somebody else using. In fact, they are pretty similar to mine. While these are a bit bulkier than standard prescription glasses, this is an advantage as it will offer you a better chance to change the lenses without having to worry if your prescription lenses are too thick.
Being able to add prescription lenses to your spy glasses with a camera will allow you to wear them more comfortably and for extended periods. What good is it recording with them if you can't see in the first place?
These glasses offer good video quality under appropriate lighting conditions, with the quality being lower if there is low lighting or shadows. With 1080p resolution, a 78° lens, and a 1/4 CMOS image sensor, you will have enough power to capture important events occurring right in front of you.
Due to the design of the glasses and how normal they look, the camera is practically invisible under most circumstances despite what the pictures suggest.
These glasses also offer a good battery life by being able to capture 1.5 hours of video and talking about the same to charge.
The glasses require the press of a button to be used, which can be a bit complicated as the instruction manual is not that clear on the instructions. You will need to press the button for a certain period to access the different options, but it is a no brainer once you experiment a bit with them.
Don't expect these glasses to offer you the same quality as others in this list, but if you are looking for a good option to use on a regular day when you feel you might need to record a video on the go, this is a great option for the price.
The glasses come with a charging cable, cleaning cloth, manual, and a glasses box. No hard case or extra lenses in this case, which is not surprising given the price. Prescription lenses can be expensive and as so, it is a good thing that these glasses cost around $50, which is not bad at all for what you get.
5. Professional Spy Camera Glasses: StuntCams HD 1080P Clear Eye Glasses with WiFi
No products found.
No products found.
Discretion is everything when it comes to using hidden spy camera glasses, as well as flexibility on how you can use them. You might not always be able to have a direct visual of the action you are trying to record, after all.
The StuntCams HD 1080P Clear Eye Glasses do not attract attention to themselves in any way like other glasses with polarized lenses, extreme designs, or even size. Their style is elegant without the need of getting the spotlight, even the person wearing them might forget about them due to their lightweight and how comfortably they fit.
The camera offers true 1080p photo and video recording at 25 FPS, which is not as high as other glasses on our list but is enough to get the job done in the hands of an expert. A field of 90° makes sure that you are recording exactly what matters while still having the freedom of movement.
Discreetness is the main quality of this product, as it is no easy task to figure out in which hole the camera is located even when actively looking for it. To the untrained eye, they just look like a design decision.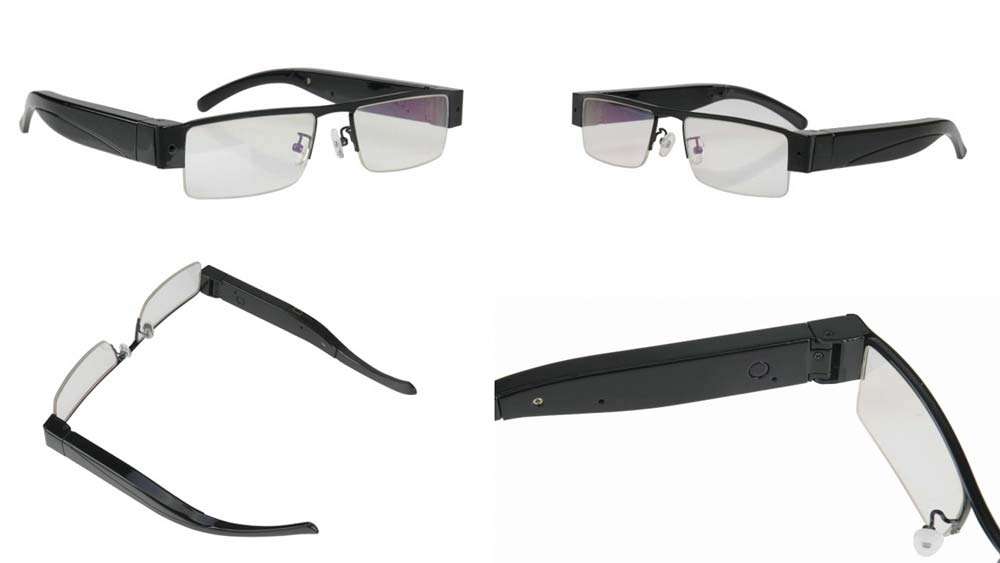 The battery performance is good with 40 minutes of recording time, which might not sound like much right now as I haven't told you the other capabilities the glasses have, so don't be too quick at judging. The battery takes 2 hours to charge completely, which means you will need to have them charged in advance.
The camera supports up to 128GB of storage using a micro SD card, which is not included. This gives you enough space to record everything you need without worrying about running out of storage.
Now, if you were wondering why did I select this specific glasses as the best professional option out there, this is why: These glasses have motion detection and notification capabilities, loop recording, the ability to use it as an IP camera to record remotely, and an app that allows you to control them remotely while streaming. Personally, I think that the possibilities these features open are endless for people doing investigative or security work.
While all glasses in this list are wireless, this truly are wireless wifi spy camera glasses due to its capabilities to connect to a wifi network and be used over it without the need of connecting to get the files.
The app makes it super easy to interact with the glasses, but it is currently only available for android devices. This makes it possible for even non-professionals to take advantage of the features should they be interested in.
These glasses include a USB Cable, manual, Cloth, Glasses bag, and SD Card USB adapter, for a price of around $170. However, as you can see, you are not paying for the accessories but the powerful features it offers, which is why I think these are the best spy camera glasses on this list.
6. 4K Spy Camera Glasses: OHO 4K Ultra HD Water Resistance Video Sunglasses
While Full HD and HD might be good enough for most users, sometimes you just need more detail when recording those moments that you want to revisit later. With 4k, also known as Ultra HD, you will be able to get more detail and a smoother image.
The OHO 4K water resistance video sunglasses are as stylish as they can be, offering a sleek design and polarized lenses that are sure to grab everyone's attention, as well as offer more UV protection and no glare.
Just like the Rincon glasses, the rims are made of TR90 Flexible Material that provides a comfortable fit, durability, and impact resistance, as both ddocs/893873590the lenses and frames are compliant with US Safety Lens Standard ANSI/ISEA Z87.1-2015. Their polarized lenses are not only stylish but also increase the UV protection factor to a whooping UV400
With 4k resolution, the video quality when using these glasses is better than the one offered by most spy camera glasses out there. The 4k option can be used at 24fps that make it a good way to record moments where not fast actions are taking place, but not good enough for extreme sports or fast-paced scenes. In those cases, you have the option to record in Full HD (1080P) at 60fps.
The camera is discreet enough for people not to notice on first sight but might be noticeable if you are having a face to face conversation with someone. This is because their purpose is not to be stealthy but to provide you the best quality and protection when doing outdoor activity.
The battery life for these glasses is more limited than other options due to the resolution they support, being able to handle 1 hour of recording at 4k, with 128GB of built-in storage. This time can be increased to around 3 hours when recording in the lowest quality, but it would be a shame to sacrifice that video quality. The charging time for the battery is about 1 hour, time in which you can use the glasses to record if you don't mind having a power bank uncomfortably hanging from your glasses.
Recording videos with the glasses is easy: Just press the button to start recording, and press it again to stop. The glasses will vibrate slightly to let you know when you have done so. However, you will need to manually modify a ".txt" file in the glasses storage to active the timestamp functionality, which might not be an obvious task for no tech-savvy users.
By buying these glasses you will also get a hard case, dark non-polarized lenses, USB charge cable, soft bag, cleaning cloth, and the manual.
The price of the glasses at this time is around $280 – $290 for the 128GB version, making it an expensive option that only those looking for higher resolution and a stylish design might consider.
7. Bluetooth Spy Camera Glasses: GoVision SOL Sport Sunglasses with Bluetooth
Why should you limit yourself to using your spy camera glasses to record videos and take pictures when you could also use it to take calls and listen to music? They are right over your ear, after all! The GoVision SOL sport sunglasses with Bluetooth allow you to do just that.
The glasses offer a cool design that you have a pick in different colors, offering you the option to make it part of your fashion choices. The glasses have interchangeable polarized UV 400 lenses, IP22 water resistance, lightweight material that makes it perfect for long wear, and an anti-slip nose pad to ensure they stay in place under any circumstance.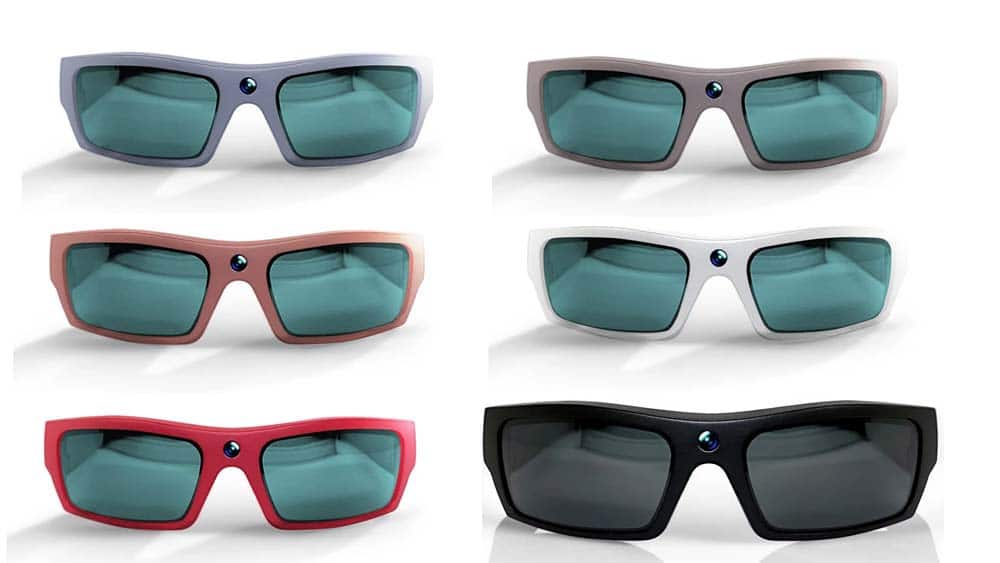 The camera has a built-in HD microphone, which offers top-notch audio recording to match the Full HD 1080p video recording at 30fps. The camera can take great pictures with 15M pixels, ensuring you won't lose any cherished moment. The 63º angle of view could be better, but it should be enough for most use cases you are likely to have in mind.
While the glasses look completely normal at a quick glance, there is no subtlety when it comes to the camera as it is placed over the nose and it is easy to spot. Don't expect to be able to use these glasses to record your kid's birthday party without people acting differently, as they will likely notice you are recording.
The glasses have a 480mAh built-in battery that offers 2 hours of video recording, which is the longest of any battery in this list. You will also be able to enjoy up to 3 hours of music time or calls.
Ease-of-use shouldn't be a problem, as you will have 2 different buttons with different functions when it comes to recording or taking pictures, a led indicator, and a Bluetooth button. These are not too big as to make the whole glasses look ridiculous, and offer more control than the single button in many glasses.
The storage capabilities of these glasses are not as good as other options, as it supports up to 32 GBs using a Micro SD card. However, it should be more than enough given the battery lifetime and way that spy camera glasses are usually used. You will need to consider that you will need to transfer the videos and pictures to other devices as soon as possible, which is pretty easy to do.
When buying the glasses, you will also be receiving a cleaning cloth, 8gb micro sd card, hard case, 1-year warranty card, a USB cable that can be used for charging, and manual. The price varies depending on the color, with the black glasses being the most expensive at this time with a price of around $118, which makes them more accessible than other alternatives and a good deal for the added Bluetooth functions.
Frequently Asked Questions on Spy Camera Glasses
What are spy glasses?
Spy glasses are glasses that allow you to record video or take pictures of what you see in a hand-free way through a camera located in the frame. These cameras might be hidden or not depending on the purpose the user haves in mind, such as security or investigative work.
Why use spy glasses?
Spy glasses allow you to record without the need of using your hands and with the same point of view you are experiencing at the time. This allows you to have a better perspective of the experience as well as use it in a variety of situations such as doing sports, driving, cooking, researching, or being in a sensitive situation you might want to have records of.
Is it legal in the US to use camera glasses?
Privacy laws do not exist on a federal level and as so, it depends on which state you are located. However, in most states, the use of camera glasses itself is not prohibited except in clear situations where a party is using them in places like dressing rooms and bathrooms. Hidden camera evidence is also not considered in most legal cases. Make sure to check your local legislation and use spy camera glasses responsibly.
How much are spy glasses?
Just like any other product, it depends on the features and quality they offer. You will be able to find glasses available going from $20 and up to $500. I included in this list glasses ranging between around $50 and $290.
What are the best spy camera glasses?
In this article, I chose 7 spy camera glasses I consider to be the best in their respective categories based on their features, design, and price.
Spy Camera Glasses Buying Guide
There are several factors that you should consider when choosing the best Spy Camera Glasses for you. Ranging from price to the accessories that come with the glasses, these are factors everyone should consider to make sure they choose correctly.
If you are reading this guide, you surely have a specific need in mind. Think about what your priorities are before selecting a product. I am here to show you some of the options you can get, not to tell you which one to buy. You are your own person!
I already provided you with some things you should look for when choosing a pair of spy camera glasses, so I am not going to go into more detail with that. However, I will give you some advice that you should consider when buying these products.
Wearing comfort of the Glasses
The first one is that, as a glass wearer myself, I know how important choosing the most durable, stylish, and comfortable glasses is. If you are not familiar with wearing prescription or protective glasses, you won't be aware of how uncomfortable some glasses will be. So try to get an idea of what style and the weight you are comfortable with, as spy camera glasses will usually be heavier and bulkier than normal glasses.
Features and Functionality of the Spy Glasses
The second one is to think of the needs of the person who will be using the glasses, by it yourself or another person. Will the glasses be used outdoors? Will they will need to be able to record for long periods? Or maybe, the focus should be on the angle of vision? By making sure the right need is covered, the glasses are more likely to fulfill the needs and expectations.
Camera Quality
Third and last, which is a common issue you see in reviews, don't expect the video and picture quality of spy camera glasses to be a match for professional cameras. The focus of these cameras is their convenience and discretion, which means that they have more constraints when it comes to using powerful but big hardware. Expect quality, of course, but not the same as your phone or dedicated camera could offer.
Final thoughts on Spy Camera Glasses
Technology is rapidly evolving each day, with new products and options showing up from what seems like thin air. While movies and shows like "James Bond" and "Black Mirror" have shown us where technology is heading, the truth is that those kinds of glasses and lenses are not available at this time.
For now, whether you are looking for a way to record your cycling sessions, kid's party, or funny behavior, or looking to run a secret mission in the french alps, spy camera glasses are a convenient and unique way to store your moments.
We all love sharing our happiest and most exciting moments with those we love. Why not do it from our point of view?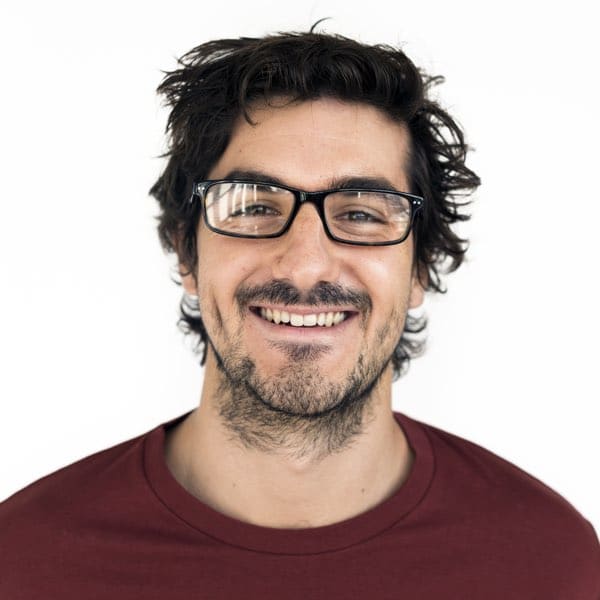 SAY CHEESE! My name is Mike and I love technology, software, and crypto. I grew up around my 'nerdy' engineering parents who've worked for high tech start-ups and aerospace companies. They've taught me everything I know, from destructing the latest phones to playing around with drones, writing lines of code and investing in cryptocurrencies. I take things apart, put them back together and add some (code). I breathe and live tech and can't wait to teach you more!