Christmas: it's the most wonderful time of the year. Children see this as a magical and wonderful time full of excitement and apprehension. If you are considering buying some new tech gadgets for your kids this year, kid's cameras are a great choice. Kid's cameras not only encourage creativity, but they will also help your child understand technology. In this day and age, familiarity with technology from an early age will help them go far.
In this article, we will go over some of the best kid's cameras on the market. We will provide you with insight on reviews of these and will also include some of our favorite picks from each category of camera out there. Next, we will offer you an in-depth buying guide to help you to navigate the purchase process smoothly. Finally, we will wrap up with some of our readers' most frequently asked questions.
Best Kids Cameras Reviewed
So, you have decided to purchase your child a new kid's camera. This sounded simple enough when you first got the idea, but all the different options can get overwhelming quick. There are a variety of different variations of cameras, and each has its own strengths and weaknesses.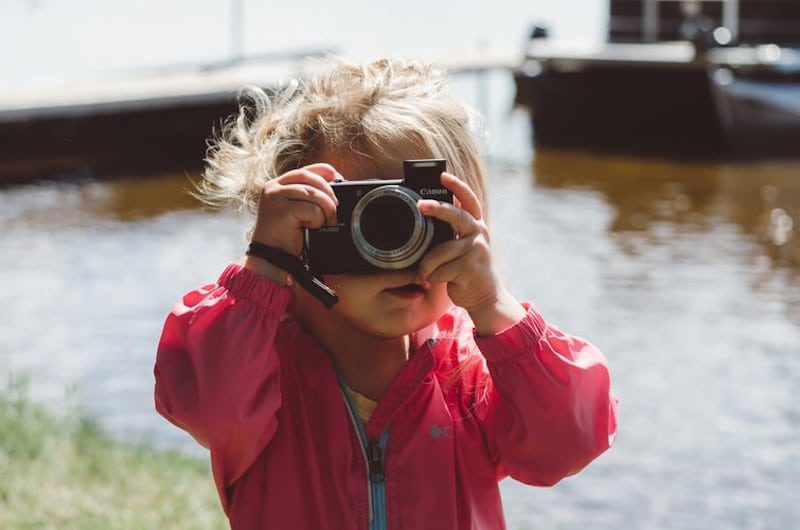 Ultimately, you will need to take into account your child's personality and the things they will enjoy a new camera. As long as you take the time to shop around, you can guarantee that you will have a happy and excited child on Christmas morning.
Best Digital Kids Cameras
VTech Kidizoom Camera Pix
Creative Kids Dual Camera
VTech Kidizoom Duo Selfie Camera
VTech Kidizoom Camera Pix
Creative Kids Dual Camera
VTech Kidizoom Duo Selfie Camera
WiFi Kid's Camera
No products found.
The WiFi capabilities of this kid's camera make it a great option for connected households. If you wish to upload the pictures on the device to Facebook, all you must do is connect to your network and use the WiFi sharing feature. We love this camera because it has an impressive amount of battery life. It also offers high-quality photos, even in low light situations.
No products found.
VTech Kidizoom Camera Pix
This camera is ideal for children of younger ages because of its size and ease of use. Although this kid's camera doesn't have WiFi capabilities, you can still transfer content using a USB cord. The Kidizoom Camera Pix comes in two colors, pink and blue, which will make it easy to distinguish if you have two children. We love this option because it's easy to hold, shock-proof and the manufacturer is of great quality with a good reputation.
ORDER NOW
Creative Kids Dual Camera
The features that this kids camera comes loaded with makes it stand out among our favorite kid-friendly digital cameras. It comes loaded with scene selections, fun frames, and filters for kids to use. The product produces photos of high quality, high definition caliber (720P resolution). The batteries are also rechargeable, making this one great investment for any long-term user!
ORDER NOW
VTech Kidizoom Duo Selfie Camera
Are you looking for a kid's camera with a wider range of color options? This product checks all your boxes as it comes in blue, camo green, and pink. The dual cameras make it possible for your tech-savvy child to take selfies and might just help you get your phone (and photo album) back. The camera also comes loaded with a few interesting games, which makes this option a double threat.
ORDER NOW
Kids Waterproof Camera
Boasting an impressive 9X zoom and underwater photo capture capability, this kid's camera is a good fit for families who travel. We love to pack this any time we take a trip to the beach or the swimming pool. It will allow your child to take stunning underwater photography in up to 9.8 feet of water. This one is sure to keep the kids having fun for hours, and the photos that come from it will be frame-worthy!
ORDER NOW
Shockproof Kids Camera
No products found.
This adorable camera comes contained in a silicone case, offering protection from falls, even from high distances. The product comes complete with a charger, USB cable, instruction book, and of course the case. We love this camera because it has a large display screen and the extra accessories offer the best bang for your buck!
No products found.
Best Kids Polaroid Camera's
Polaroid Mint Instant Print Camera
Minolta Instapix 2 in 1 Instant Print Camera & Bluetooth Printer
Available Colors
Black. Blue, Yellow, Red, White
Blue, Black, Pink, Grey, Purple
Polaroid Mint Instant Print Camera
Available Colors
Black. Blue, Yellow, Red, White
Minolta Instapix 2 in 1 Instant Print Camera & Bluetooth Printer
Available Colors
Blue, Black, Pink, Grey, Purple
Fujifilm Instax Mini 9
The Fujifilm Instax Mini 9 is a great option for parents who love reputable, name brand products. This Polaroid-style camera is all the rage this Christmas season, so your child is sure to have a smile on their face when they open this up. This is one of our personal favorites because it's a unique color and the gift bundle it comes with has much to offer.
ORDER NOW
Polaroid Mint Instant Print Camera
This option comes from the original manufacturer and creator of the nostalgic Polaroid cameras. Many people choose to go with a camera from this company because they are who have been in business for the longest time making this product. We love this one because it's light and compact. It isn't specifically marketed towards kids, meaning that your child won't quickly grow out of it, which is great if you're sick of throwing old, outgrown toys out.
ORDER NOW
Minolta Instapix 2 in 1 Instant Print Camera & Bluetooth Printer
This one was an especially cool option because of the Bluetooth printer that comes with it. Although this doesn't check all the boxes for an average Polaroid camera, we still included it because it's close enough. This would be an awesome option for a parent who wants to review pictures before they're printed.
ORDER NOW
Instant Print Kids Camera
No products found.
When it comes to cameras that are specifically tailored for children, this one is a great choice. The color scheme is neutral enough that it could work for a girl or boy and it is shock-proof. If you have smaller children, you know this is definitely a must. This one also comes with a more kid-appropriate gift set, so if you're into bundles, we think this would be great for smaller kids!
No products found.
WiFi Instant Print Kids Camera
No products found.
This kid's camera offers the benefit of WiFi service, as well. If you live in a connected household and your children understand WiFi, this option has much to offer. They will be able to not only print their pictures right then and there but also upload them into social media or other online albums.
No products found.
Polaroid Snap Camera
No products found.
The Polaroid Snap camera is another option if you are looking for a big, established company to buy from. This one isn't inherently shockproof, so you may want to consider buying a protective sleeve since this is for a child. We love it because it is from the OG and it has many awesome features like water and tears resistance.
No products found.
Bonus: Kids Video Camera
The fun design and whimsical colors of this camcorder make it one of our favorite options on Amazon. The star rating leaves nothing to be desired and the quality of this item is superb. We love everything about this one!
ORDER NOW
Kids Cameras Buying Guide
Once you have decided to purchase a new camera for your child, there are a few things that you will need to consider. We have included a detailed list of these things below to help your buying process be as smooth and productive as possible.
Consider the Age
The first thing you will need to consider when purchasing a kids camera is age. A younger child, for example, probably won't pay attention much to the quality of the pictures, but has a higher risk of dropping a camera. In this case, you wouldn't need to worry about the resolution of the photos, but you will need to look into the durability, instead.
The Camera's Power Source
You will also want to think about is the power source. Is a rechargeable option going to work for you, or would you rather skip buying multiple replacements in favor of a rechargeable option? Ensure you are aware of how long the batteries will last, as well, in case you need to charge up before a long trip or a day out on the town.
Kid's Camera Preferences
What will your child appreciate in a camera? Will simple photos are enough, or would he or she enjoy adding filters and playing games? You have your options that will meet almost any need your child has in a camera, so shop around!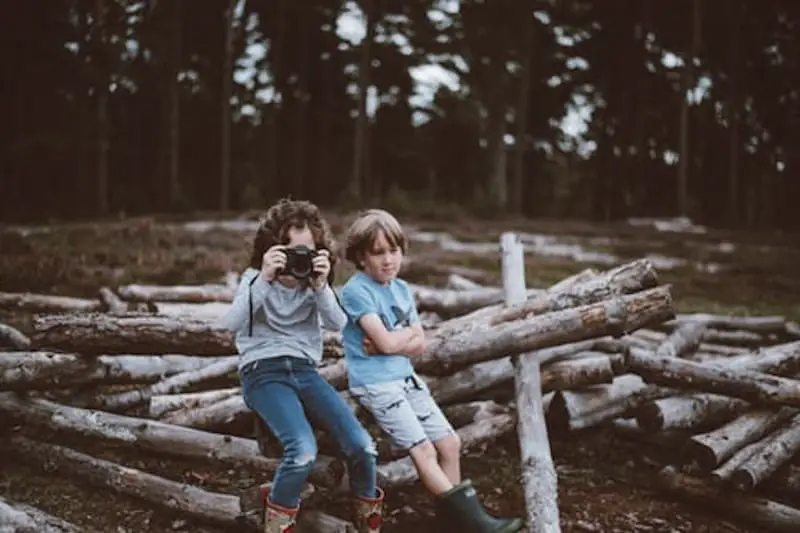 Budget for Kid's Gifts
Your budget should always be a top priority. Be careful not to pick the least expensive option all of the time. You can evaluate your options and find one that will give you the best product for the money. Remember: you are paying for longevity and reliability. Spending a little more money could mean a sturdier and longer-lasting product. Covering the expense now ends up saving you money in the long-term.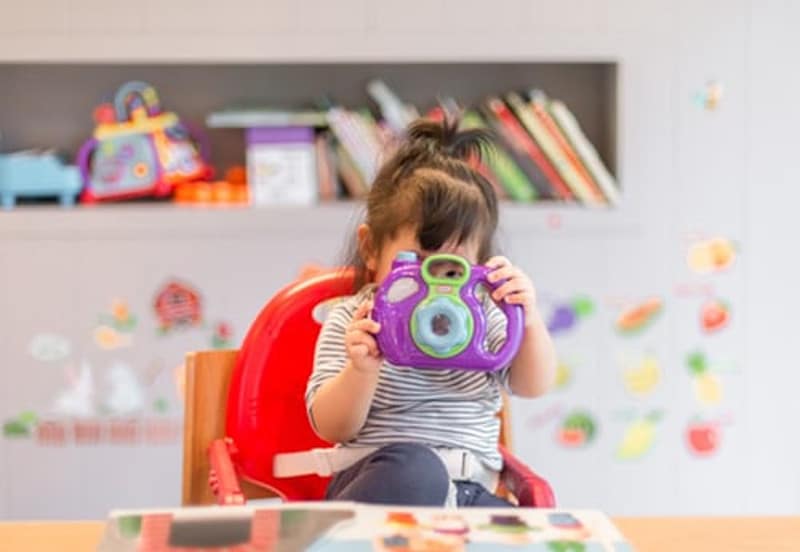 Kids Cameras FAQ
Will a kids camera hurt my child's eyes?
Most digital camera screens do less damage than a TV screen, which makes them an attractive option for many parents. Polaroid cameras have no screen at all, so if you are worried about exposure, that would be a great option for you.
How do I know if a camera is right for my child?
If your child has expressed interest in taking photos, you should buy them a camera. You never know – you could be fostering a passion that will continue for many years to come!
What should I do with the photos my child takes?
Many parents choose to display them on their social accounts online or upload them into a digital album. You could also frame them or put them in a physical photo album.
What happens if the kid's camera gets broken?
Many of the options we listed here include warranties that cover a wide range of problems that might occur, Make sure to check these details before making a purchase so that you fully understand what you are getting.
How will I know when it is time to upgrade a kid's camera?
Once your child has a depth of understanding of their kid's camera, you can upgrade. You might base it off other things, as well, such as maturity level and interest.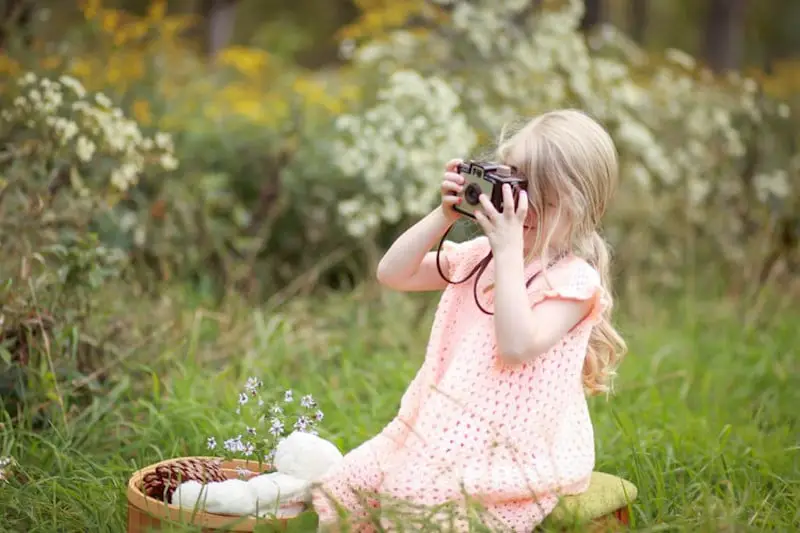 Getting your Child a New Camera
A new kids' camera will delight and excite your children on Christmas morning. If you haven't made a similar purchase yet, though, this can be intimidating. Doing your research can ensure that you go with the option that best fits your child's needs.
Now that you are armed with all the information you need, it is time to make the purchase. Check one more thing off your Christmas list and get ready to see those little faces light up on Christmas morning.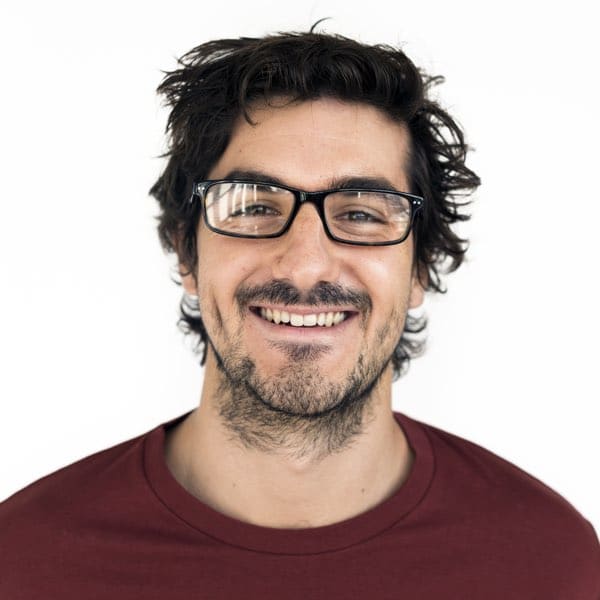 SAY CHEESE! My name is Mike and I love technology, software, and crypto. I grew up around my 'nerdy' engineering parents who've worked for high tech start-ups and aerospace companies. They've taught me everything I know, from destructing the latest phones to playing around with drones, writing lines of code and investing in cryptocurrencies. I take things apart, put them back together and add some (code). I breathe and live tech and can't wait to teach you more!