If your older loved one becomes disoriented or lost at times, using a GPS locator to track their whereabouts in an emergency makes sense. Choosing the best GPS tracker for an elderly depends on the features you wish to have, and I am here to help you with that.
So, keep reading to find out your best pick.
Things To Consider Before Buying a GPS Tracker
Let's face it; not all GPS trackers available in the market deserve your attention. Ideally, you must look for certain minimum features. Here is what I look for, at the very least:
Real-Time Tracking Features
Real-time tracking is a must. You don't want to know where your elderly was 15 minutes back; their current position with real-time updates. For this reason, choose a GPS tracker that is connected to multiple satellites, and issues instant alerts once the elderly leaves a safe zone, breaches speed limits while driving, or changes their location.
Distress Button
Having a distress button in a GPS locator enables your elderly to reach out to you when in trouble. They can press it to alert the person responsible or a preset contact.
Battery Life
The efficiency of a GPS tracker depends on its battery life. Choose a device that can keep running according to the lifestyle of your loved one.
Size
An ideal GPS tracker is compact. This way, your elderly won't find it troublesome to carry it with them. They can put it in their pocket and are good to go.
Water-Resistant
Water-resistant trackers can withstand occasional water splashes. They can come to the rescue and stay functional even when your elderly is in the washroom.
Ease of Use
A tracker doesn't need to have a lot of buttons. This would not only make it confusing but will also defeat its entire purpose. It should, ideally, be only capable of staying online, sending real-time locations, and issuing distress signals whenever needed. Look for a tracker that requires minimal initial setup and has a maximum of 2-3 buttons.
Best GPS Trackers for The Elderly: My Top Picks
I have conducted a lot of research, tried different models, and collected reviews. The tracking devices for elderly that I list here are based on my personal opinion and objective research. They will surely fit your purpose, take my word for it!
1. Tracki Mini Real-Time GPS Tracker
The 2020 version of the Tracki GPS tracker has won my heart, and I mean it. Providing you with unlimited distance real-time tracking, this GPS tracker surely fulfills its purpose of keeping your elderlies within your reach.
The reason I have included the Tracki GPS tracker in this list is its size. It is compact and about 30% of the size and weight of other trackers available in the market. So, your elderly won't have a reason not to carry this with themselves wherever they go.
The tracker is equipped with a built-in SIM card that allows you to monitor location with pinpoint accuracy while providing you with real-time updates.
What's more, charge this tracker to the fullest, and forget charging it for one month if kept in sleep mode and six months in save mode with an optional battery.
Okay, so you have large premises? Well, you can even track the location of your loved ones inside your home as well, all thanks to the tracker's capability of indoor tracking based on routers ID. You can even track the last 100 feet using its Bluetooth tracking.
The elderly tracker also comes with an SOS panic button. So, whenever your senior is in trouble, all they need to do is press the SOS panic button, and an alert will be issued to you through app, text, and email.
But that's not all; the tracker also provides a lifetime warranty. Wow! That's something you don't get to hear often.
ORDER NOW
Pros
Real-time tracking
Small, compact, and lightweight
Appreciable battery life
Lifetime warranty
Instant notifications
Cons
Requires a monthly subscription
2. LandAirSea 54 GPS Tracker
This one is yet another GPS tracker perfect for seniors, that I cannot do without adding to this list. Okay, so there are various reasons that I want to talk about this amazing product.
First things first, US-based LandAirSea has been manufacturing GPS devices since 1994. So, they know what they are doing, and believe me, they are doing it pretty well.
Secondly, since the company is US-based, you can be assured of the quality and services that they provide. 
Talking about technical aspects, the device makes use of 4G LTE cellular technology and GPS signals to track location accurately. If you have lost the location of your elderly, all you need to do is log in to the web-based software or SilverCloud App and get real-time updates on your loved one's live location.
When I review GPS location trackers for seniors, I always pay attention to the device's water-resistance. If your chosen device can't withstand moisture or water, this simply defeats its entire purpose. Thankfully enough, LandAirSea 54 GPS tracker is waterproof and can work fine even in heavy rains and underwater.
The tracker is lightweight and compact – another plus point. So, sneak it into the pocket or purse of your senior. You can also attach it to their vehicle with its strong magnet if they often drive alone.
ORDER NOW
Pros
The device uses a SIM card to deliver worldwide coverage
Can be used in countries like Canada, USA, Mexico, Europe, Asia, South America, Australia, and Africa
Strong magnet helps it stick with any object firmly
Provides you with accurate satellite images
Long-lasting battery doesn't need you to charge it daily
Cons
The monthly subscription of $25 is expensive
3. Spytec GL300 4G GPS Tracker
Spytec is here with its newly revamped GL300 tracker, which boasts of its accurate tracking capabilities. It also offers an impressive 2.5-week battery life. Its battery life is the main reason that I have included this tracker on this list.
If you are anything like me, you don't want to charge your tracker very often. And 2.5 weeks of battery life is pretty apparent – you only need to charge twice in a month. Great.
Coming to its size, it is just 3 inches tall and 0.39 inches thick. So, if your elderly is suffering from dementia, tuck this device in their pocket or conceal it in their purse – whatever suits you the best.
One of the best parts of this tracker is its ability to send location alerts whenever the tracker leaves or arrives at a specific location. You can use Boundaries function to set up a perimeter on the app such that whenever your elderly cross the set boundary or enter it, the tracker will notify you.
ORDER NOW
Pros
Provides you with data and reporting features
Allows you to set up boundaries
Sends location alerts
2.5 weeks of battery life
Compatible with multiple devices
Cons
Customer support not as good as expected
Requires subscription
4. PrimeTracking Personal GPS Tracker
No products found.
If customer support matters to you, as much as it does to me, this GPS tracker from PrimeTracking is what you need.
Known for providing top-notch support to customers within a reasonable time, PrimeTracking is one of the leaders in the surveillance industry. This GPS tracker is a testimony of their reputation.
Geared up by 4G LTE technology, the tracker sends quick notifications to you, as often as every 10 seconds. It relies on Google Maps to relay movement reports.
Further, the tracker allows you to set up geofencing alerts such that when the target moves past a certain area, it issues an alert.
It also has an instant SOS button that your elderly can use in case of an emergency.Similar to the 54 GPS tracker for a person from LandAirSea, this tracking device also comes with its smartphone app that is compatible with iOS and Android devices. It also provides a desktop interface for PC and Mac.
No products found.
Pros
Excellent customer service
Provides real-time updates
Comes with an SOS button
Cons
Provides location tracking services only in the United States, Canada, and Mexico
Requires subscription
5. JioBit GPS Tracker
So, I know this one is made primarily for kids, but I don't see why it can't be used for tracking elderlies. And I must admit that JioBit is so far the most attractive and easiest tracker that I have ever come across!
It is a small, gray, tear-drop shaped device that is just as big as your pinky finger. You can loop it through a hair tie of your grandmother or attach it to your grandfather's belt.
The device uses a combination of cellular data, Wi-Fi, Bluetooth, and GPS satellites to provide you with the most accurate locations. It has a waterproof rating of IPX8, weighs only 18 grams, and is extremely easy to operate. I love this one!
ORDER NOW
Pros
Allows you to add safe places
Provides real-time updates with a live tracking mode
Compact and esthetic
Provides location tracking in more than 146 countries
Affordable subscription
Cons
Doesn't provide you with location history
Lacks SOS button
6. Spark Nano 7 4G GPS Tracker
If big names excite you, Spark Nano surely deserves your attention. BrickHouse Security's flagship battery-powered GPS tracker claims to provide the best reporting coverage in the US, and I believe this says it all.
This Alzheimer GPS tracker ticks all the right boxes as far as its intended use is concerned. It is fast when providing real-time location updates and easy to handle. It comes with a panic button, so your elderlies can press it if they are prone to wandering, and signal you that your help is needed.
It sends speed alerts and keeps you seamlessly connected with your loved ones through its smartphone app.
The tracker allows you to enable its geofencing feature so that whenever your elderly cross the safety fence or wander, a notification will be issued. It is small in size, easy to operate, and its battery lasts a long time.
ORDER NOW
Pros
Sends speed and location alerts to your smartphone
Comes equipped with a panic button
Smartphone app for Android and iPhone
Updates the location in real-time within 60 seconds
Good battery life
Cons
Provides 4G coverage only in North America and works only in the US, Mexico, and Canada
Monthly subscription is expensive
7. Amcrest 4G LTE GPS Tracker
So, this is another GPS tracker you cannot go wrong with if your elderly is suffering from dementia. The device provides updates every 5 seconds, as claimed by the company, so you can be sure that your loved ones are safe.
As expected, it is sleek and compact. This means your senior can slip it off inside pockets, and purse without making it obvious that they are being tracked. You can receive the updates through web-access or the smartphone app.
The best part – you can create links and share them with your friends and family to keep an eye on your elderly whenever you are busy. Think of those busy meetings when you cannot just keep an eye on the tracker. Simply hand over the link to your friend or family member, and they will do it for you. Relief, right?
Like most other trackers on this list, the device also allows you to create geofencing zones that alert you whenever the GPS tracker for dementia patients exits or enters the marked zone.
The device is IPX5 water-resistant and is powered up by 2600mAh battery, which is expected to last up to 14 days on a full charge.
ORDER NOW
Pros
Easily accessible Android and iOS smartphone app
Long battery life
Small and compact
Receive updates directly on your phone
Comes with an SOS one button push
Cons
Only works in the US, Mexico, and Canada
8. Americaloc GL300W Real Time GPS Tracker
Do you have enough options to choose from by now? The next three that I am going to talk about are as amazing as the others on this list.
Talking about Americaloc GL300W, this GPS tracker is the updated version of GL300. This version provides a longer battery life and also renders multicarrier coverage.
The tracker holds pretty much all the features that the other trackers on this list have. It is easy to use. You get a range of alerts – movement, speeding, device on/off, entering or leaving zones, etc. But my favorite alert in this tracker, which other trackers must also have, is battery life and coverage alert. You want to know if the tracker with your elderly is low on battery life or outside the coverage area, instead of making wild guesses, right? And yes, the manufacturers of Amricaloc have thought it all.
The tracker provides real-time tracking and adds to that; it also helps you store one year of tracking history, so you can look at it whenever needed. The tracker does require a monthly subscription, like most others.
ORDER NOW
Pros
Works in most countries of the world
Long battery life
Low battery and less coverage notification
Ready to use
Prompt customer services
Cons
Requires monthly subscription
9. Optimus Tracker GPS Tracker
As promised, I'm here with another personal tracking device for elderly, which will not disappoint you. This tracking device is known for its accurate, real-time, and discreet GPS tracking. It comes with a handy twin magnet case, which comes in handy if your senior often forgets carrying the device with them; you can attach it to any metal component that they carry.
The battery runs for about two weeks. By default, the device provides you with updates every 1 minute. However, you can set it up to 10 seconds, as needed.
The tracker notifies you in the form of text message and email alerts in case of any movement or when your elderly crosses or enters any area.
It also comes with an SOS button, so your loved one can alert you whenever in distress. And like the previous one in this list, the tracker also notifies you in case of a low battery. All these great features will definitely make both you and your elderly's life easier!
ORDER NOW
Pros
Get real-time updates in case of low battery or any movement
SOS button to notify you in case of any emergency
Set up geofencing and get updates
Battery lasts up to two weeks
Optimus magnetic case for easy attachment to vehicles
Cons
10. VyncsPro GPS Tracker
Here is one I recommend if you want to get rid of the hassles of a monthly subscription. This tracker doesn't bind you with a monthly fee or contract. All you need to pay is a one-time network activation fee.
The tracker comes with all the bells and whistles of a standard tracker – 60-second GPS update, live map autorefresh, and more.
You can keep an eye on your elderly's location using your desktop or smartphone, and in doing that, you don't need to refresh the feed as well, all thanks to its autorefresh feature. The device comes along with a built-in SIM card and data plan that lasts a year.
Vyncs provides you with detailed reports on GPS locations – location by day, last known location view, location by trip, and so on.
ORDER NOW
Pros
Works as intended
Nice battery backup
Easy to use
Doesn't require a monthly subscription or contract
Cons
Customer support takes time to get back to you
Frequently Asked Questions on GPS Tracking devices
How does a GPS tracker work?
A GPS tracker makes use of the Global Navigation Satellite System (GNSS) network. However, in some cases, when the GPS coverage is poor, a radio frequency or cellular network could be used. The idea behind the working of a GPS tracker is simple. The device transmits a signal to orbiting satellites that communicate this information to the specific computer or smartphone.
How to use a GPS tracker?
Simply, tuck off the GPS tracker in the pocket or purse of the person you want to track. You may also place it strategically on the vehicle of the target person.
How much does GPS tracking devices cost?
Most GPS tracking devices require you to buy a device for a flat fee. Then, you are required to buy a monthly or yearly plan, based on the frequency of updates that you want to receive. Depending on the features you wish to have, the hardware cost of GPS trackers start from $15 and could go as high as up to $500. Add to that, the subscription costs of about $25 per month.
How We Chose The Best Tracking Devices For Seniors And Elderlies
Ah, that's a difficult question, but I am glad you asked.
So, I was in the market looking for the best tracking device for my grandmother, who is suffering from dementia, and like most of you, I was overwhelmed with the choices and devices available. As a result, I conducted my in-depth research, learned the features that each one offers, found out how they work, ensured that they are easy to use (after all, I didn't want to bombard my grandmother with something confusing to use), and shortlisted my must-have list of features.
While I was doing all this hard work, I thought of compiling my research into a well-curated piece so that people like me can make an educated decision. And this is how I framed this guide on the best GPS trackers for elderlies.
You will agree with me that when it comes to our seniors, we don't want to take any chances. So, here are a few features that I have focused on:
Ease of use – I don't expect my seniors to learn hi-fi tech at this age, and you shouldn't as well
Responsiveness – I don't want the tracker to send me a signal some hours down the line
Features – At the very least, I expect the tracker to have an SOS button, smartphone app, geofencing, and nice battery backup
Design – GPS trackers should be small and compact in use that my elderlies can use without feeling embarrassed or something of that sort
Price – It should be reasonably priced, right?
In Conclusion
As you can see, the best GPS trackers for elderlies are not difficult to find. You just need to know what to look for and where to look for.
I hope this in-depth guide on GPS trackers would have helped you in finding the right fit and would contribute to keeping your loved one safe and secure.
So, what are your views on this? Have I missed anything, or do you want to share your opinions on this guide? Do let me know in the comments below.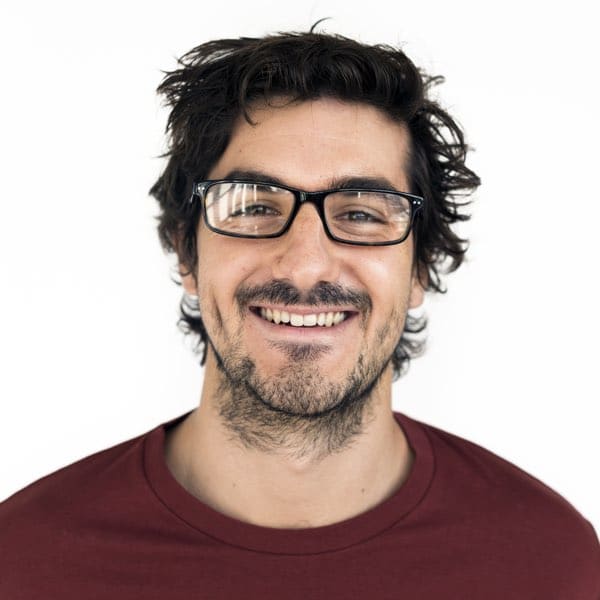 SAY CHEESE! My name is Mike and I love technology, software, and crypto. I grew up around my 'nerdy' engineering parents who've worked for high tech start-ups and aerospace companies. They've taught me everything I know, from destructing the latest phones to playing around with drones, writing lines of code and investing in cryptocurrencies. I take things apart, put them back together and add some (code). I breathe and live tech and can't wait to teach you more!